BlackBerry boss vows to keep making phones
More are coming – this horse isn't dead yet
---
BlackBerry CEO John Chen told shareholders at his company's AGM today that he'll stay in the handset business as he reckons he has a good chance at making money from it.
Chen didn't say how: whether he'd stick doggedly to BlackBerry's own BB10, flirt with Android, or bring them both into a hypervisor-enabled cohabitation arrangement. But that's because nobody asked. Really.
"I'm always asked, 'why are we in the handset business?'" said Chen in front of investors in Waterloo, Canada.
"I think we have a chance to make money. The handset business is not only reputational, but an entry point to security. We have a lot of know how and patents that at least allow us to have that dream," he explained.
"We could secure other people's devices, and we are doing that. Our software will manage Samsung's Knox device, their most secure phone. But the way we build our phones [means] it's the most secure phone one could buy."
BlackBerry's financials for the just past quarter, published earlier today, reveal devices sales of 1.1m in the three-month period, continuing a gradual decline. (The company was moving 6.8m per quarter two years ago, of which over 2m were BB10 devices.) Hardware sales are down 51 per cent year on year, Chen said, but expenses are down 56 per cent. New hardware manufacturing relationships will allow BlackBerry to make devices more cheaply.
"The relationships will take the financial burden off our income statement and will allow us to make devices," he said. Handset knowhow was needed for pushing ahead in the world of the Internet of Things, he said.
Chen didn't use the AGM to announce any new platform strategy. Instead, he said it had tightened up costs and redeployed some hardware staff to sales support or IoT work.
"We have big inventories but we've cut that in half As new devices come out, that might uptick a little too," he said.
BlackBerry said it would release four devices in 2015. It has released one: the Leap, a low-cost touchscreen phone. Another one will be a Porsche Design collaboration, the company has said, while a curved screen model was shown off at Mobile World Congress in Barcelona in March. That leaves one model to refresh last year's devices – or try something new. BlackBerry's QNX hypervisor, which the company said will be ready towards the end of the year, can run guest operating systems including Android with only a "low single digit" performance penalty.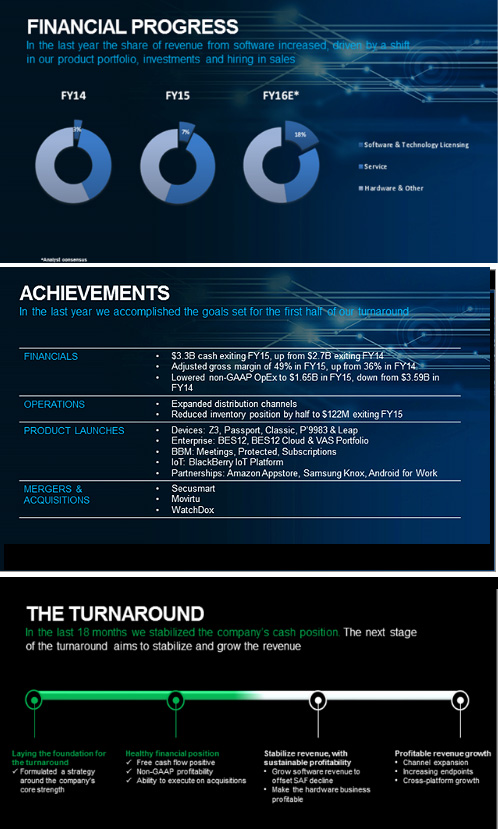 source: BlackBerry AGM
Chen explained the past year had been spent building up BlackBerry's distribution strategy and making strategic investments. He retains his knack of deflating the most formal corporate event. Talking his way through this slide, the CEO mused: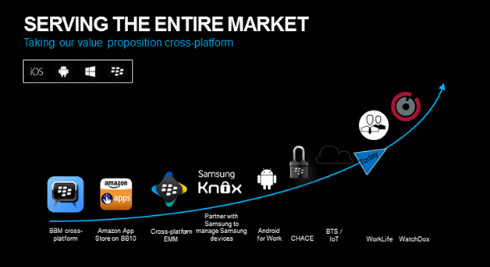 "Why is the arrow going up? I have no idea," before offering: "I guess... we're elevating - we're doing better."
You don't hear that very often. ®
Similar topics
Narrower topics