This article is more than 1 year old
Vodafone splashes €2 BEEELLLION to kick German TV sideways
Achtung, die Engländer haben mein Tellyboxsignalfrequenzen gekauft
Germany's electricity, gas, telecoms, post and railway regulator, the Bundesnetzagentur, has raised €5.08bn in its latest spectrum auction - including flogging the 700MHz frequencies currently in use by TV channels.
The biggest purchaser was Vodafone, which splurged €2.1bn, with the auction going through 181 rounds and incorporating 16 days of bidding. Deutsche Telekom and Telefonica Deutschland forked out €1.8bn and €1.2bn respectively.
Vodafone's determination to get the 1800MHz band forced up prices overall, arguing that "the spectrum acquired will enhance Vodafone Germany's 4G network, increase data capacity and speed on 4G, while improving voice quality on GSM services".
The total sums are a long way from 2000, the heady days of 3G, where the UK government raised a staggering £22bn and the German government €50.8bn. Today, network operators are a little more cautious. Prices are maturing and there are fewer bidders.
Details of the auction can be found at the Bundesnetzagentur website.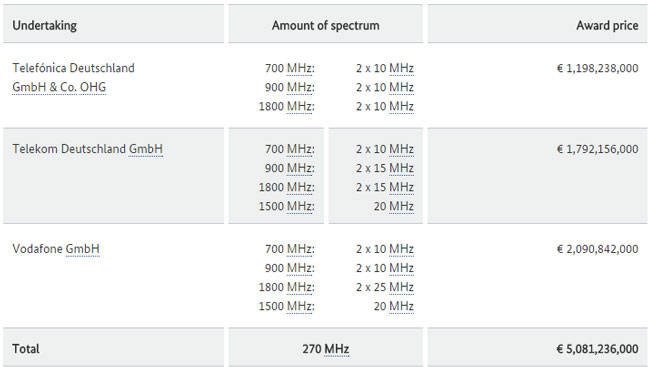 The 700MHz spectrum will become available to the three operators from next year, when the TV services are moved elsewhere.
The UK will have to undergo a similar process as Freeview operates at the same frequency, but this is not scheduled to happen until 2022 — although Ofcom is hoping to bring this forward to 2020.®