Review Intel's teeny-weeny NUC or Next Unit of Computing device was first launched back in 2012 and has been tweaked and updated at regular intervals ever since. Just recently, the latest version of the NUC landed in my lap – or to be more precise, landed in the palm of my hand.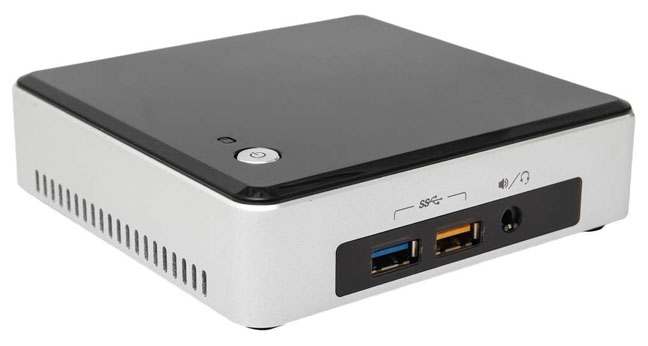 Intel's next Next Unit of Computing
Palm of my hand? Well, yes. With a system footprint of just 115 x 111 x 32.7mm, the NUC's 10cm square motherboard makes the 17cm square mini-ITX platform seem practically Gulliver-like in comparison.
There are several versions on a theme with the latest NUC, but all are powered by 5th generation Intel Core i5 or i3 processors, supporting up to 16GB of DDR3L RAM. The shorter platforms; NUC5i5RYK and NUC5i3RYK support M.2 storage (both SATA and PCI-E) in 2242, 2260 and 2280 formats. The taller (48.7mm) NUC5i5RYH and NUC5i3RYH retain the M.2 support but add the ability to install a 9.5mm 2.5in drive.
Believe it or not, in this taller format there is a Core i7-powered version due soon, the NUC5i7RYH. This uses a 3.1GHz (3.4GHz with Turbo boost) dual-core i7-5557U processor with Iris Pro (6100) graphics.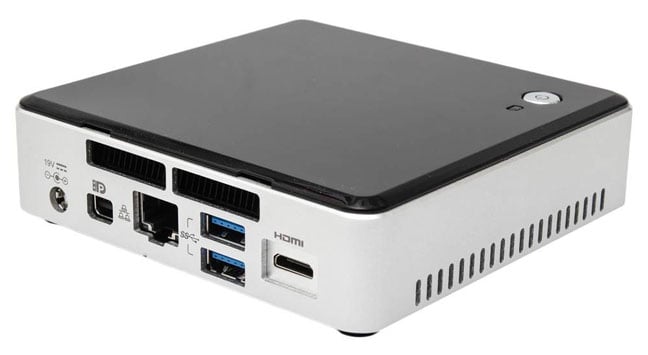 No skimping on interfacing options
So something basically four inches square can't have much in the way of features can it? Well, think again. First off, there are four USB3.0 ports, one of which supports fast charge. You also get mini DisplayPort 1.2 and mini HDMI 1.4a ports, 7.1 audio support and Gigabit Ethernet.
As for Wi-Fi support, the NUC comes with an Intel Wireless AC-7265 chip soldered on the mainboard, which supports 802.11ac, Bluetooth 4.0 and Intel's Wireless Display. The integrated Intel HD6000 graphics core supports 4K (60Hz using the DisplayPort, 24Hz via HDMI) and it can also drive three monitors; one via HDMI and two via DisplayPort either daisy chained or by using a DisplayPort splitter.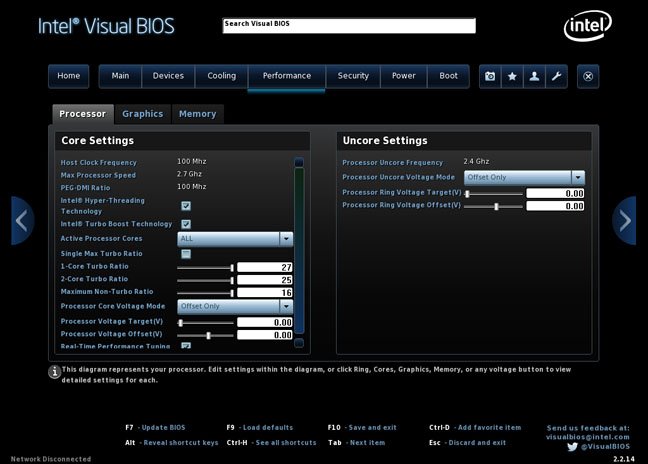 Performance tweaks made easy with Intel Visual BIOS
The basic NUC comes as a barebones kit, meaning that it needs memory, a hard drive and an operating system. The press review kit that Intel provided was a NUC5i5RYK powered by a dual-core (four threads) 14nm Core i5-5250U CPU which runs at 1.6GHz, ramping up to 2.7GHz with Turbo boost, and using Intel's QS77 chipset.
The NUC uses the latest version of Intel's Visual BIOS, which may not be as sophisticated as, say, the latest ASUS UEFI BIOS – but then again not many are – but in truth it's not that far behind. Still, it's a really useful tool and it does include a very, very useful utility; a built-in, fully functioning search engine. No more scrabbling to find some obscure setting, just type in what you are looking for and the search engine does the rest.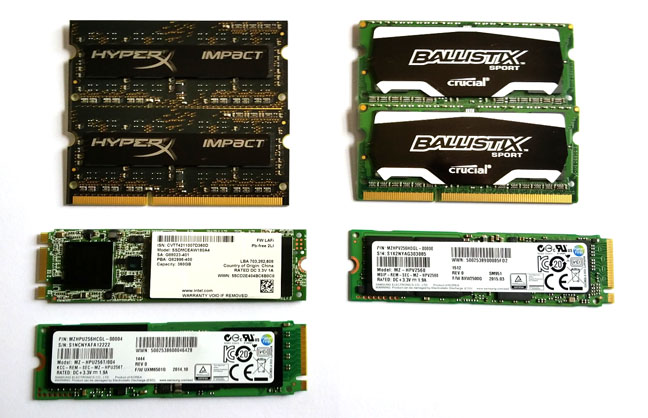 What came with it (left) and what was added (right)
Supplied with the NUC5i5RYK was 8GB of DDR3 1600 (Kingston HyperX Impact) memory and a choice of two M.2 drives – one a mainstream SATA Intel 530 360GB SSD and the other a bit of a special "flyer" of a drive in the shape of a 256GB PCI-E Samsung XP941 [PDF]. I also added some components of my own, including Samsung's outrageously fast SM951 PCIe SSD. More on this later.
Similar topics