This article is more than 1 year old
Delphix gets a pat on the back in Gartner's latest tea leaves reading
Hopeful Actifio also receives kind words in Magic Quadrant
Data virtualiser Delphix has had a Gartner boost by appearing in the leaders' box of its Magic Quadrant report for Structured Data Archiving and Application Retirement.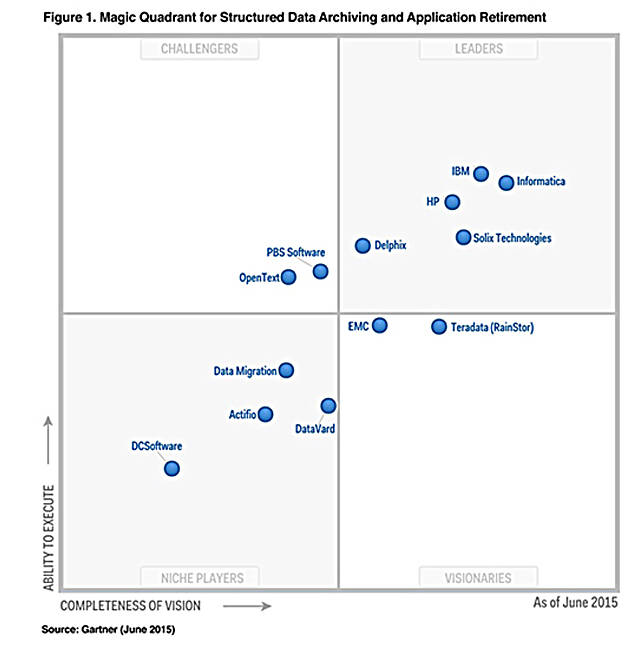 Fellow data virtualiser Actifio was also placed in the MQ, as a niche player.
The other four leaders are IBM, HP, Informatica and Solis Technologies
Gartner defines structured data archiving as "the ability to index, migrate and protect application data in secondary databases or flat files, typically located on lower-cost storage for policy-based retention". It addresses these issues:
Storage optimisation – to reduce the volume of data in production and maintain seamless data access
Governance – preserve data for compliance
Cost-optimisation – through reducing data volumes of stored structured data
Data scalability – Scalability to petabytes of capacity is required to "manage large volumes of non-traditional data resulting from newer applications which can generate billions of small objects"
Actifio and Delphix use copy data virtualisation, whereas the other suppliers do not.
For example, Actifio makes "a single "golden image" (copy) of production data, capturing it at block level and placing it in a separate storage system, from which it can generate multiple virtual copies for different use cases, including archiving".
Delphix' "primary use case is focused on testing and development through providing virtualised images of the database. Delphix Live Archive provides application archiving by creating a virtualised image of the entire stack that can be mounted at a future date when access is required".
Gartner tells us Delphix instances can be spun up in a matter of minutes, with compression reaching 20-to-1 and even as much as 40-to-1.
They can also be spun up quickly; SABMiller is rolling out an SAP infrastructure worldwide. Each implementation requires testing with test production environments. These took up to 20 hours, with many repeats of the process over time whenever fresh tests had to be run. By using Delphix to provision the test environment data, the process was cut down to 10 minutes.
The other suppliers use compression of some sort of database software techniques to effectively reduce the volume of the data stored. By using a golden master with virtual copies spun up, as Actifio and Delphix do, both data storage volume and data re-provisioning would appear to be achieved much better.
Get a copy of this MQ on Delphix' web site. ®