Update All of US carrier Verizon's services have been struck down by an outage across Delaware, New Jersey, and New York since 5:27am EDT.
Down Detector has recorded a spike in complaints since this morning, and its own commentards have tracked the outage by offering their experiences and referencing them with their area codes.
According to the site, the most reported problems from Verizon customers are reasonably evenly distributed amongst internet, television and telephone services.
The Register understands these issues may have been caused by a storm which struck the east coast early this morning, although we are waiting to receive an official statement from Verizon.
According to a report by radio station New Jersey 101.5 which quotes spokesperson Sheldon Jones claiming the outage would only affect the wireless service.
Various US news outlets, including the Washington Post, are reporting that customers hit by the outage are unable to call the emergency services.* Different carriers are reportedly unaffected.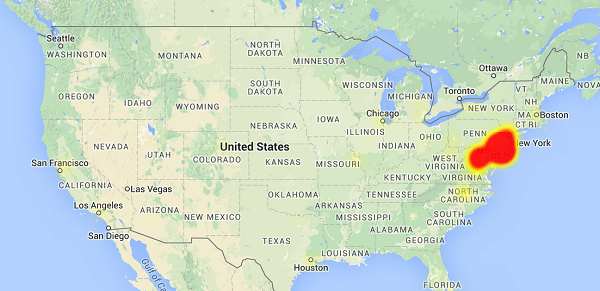 #BREAKING @VerizonWireless customers, here is why your phones aren't working. #verizonoutage pic.twitter.com/B8btzAlaCA

— Joshua Crompton (@PhillyNewsGuy) June 24, 2015
Update
Verizon have contacted us with the following statement: "We are aware of issues with all the cellular networks around southern New Jersey, Delaware and Pennsylvania, which began around 1:00 am this morning due to severe weather and an accidental fiber cut that affected the redundant equipment we have in place to provide system back-up. Verizon is working diligently to address service issues as quickly as possible in all affected areas." ®
Bootnote
* Or, in Vulture Central's backroom gremlins' view, WashPo's version of the story is "phone service provider outage means your phone doesn't work." Apparently this sort of obvious connection is news to left-pondians.
Similar topics