This article is more than 1 year old
Hey devs. Forget Siri – Amazon's Alexa will show you a $100m good time
Online bazaar provides APIs and SDK for voice assistant
Amazon is reaching out to developers in an effort to build a rival to voice assistant services like Apple's Siri and Microsoft's Cortana.
The online retail giant has released APIs and a software development kit (SDK) in an effort to build up its new Alexa voice service, which is built into its Echo smart speaker. It has also announced a $100m investment fund for companies working on voice technology.
The idea is to expand Alexa by getting others to produce hardware and software that uses the cloud-based service to add voice commands to a whole range of new products, including smart-home devices, car technologies, and general usage.
There are few details about the $100m fund beyond the headline figure, other than a very brief online application form and some vague details about investments in a number of start-ups.
Six of the seven companies Amazon says it has already put an unspecified amount of money into are working on a variety of products, including a cooking app, a home security system, a garage door opener, a connected children's toy, a fitness assistant, and an in-car system. The seventh is a company that offers products and services to help inventors bring their creations to market.
Amazon says it will invest in other companies that provide "new hardware products for inside or outside the home." The catch of course is that you have to build it around Amazon's voice technology. The online retailer is also keen on companies that want to add capabilities to Alexa-enabled devices, and those that want to develop new voice technologies.
To further encourage innovation and investment around what it hopes will be a voice eco-system, Amazon is also opening up its voice service – seemingly for free – by publishing the Alexa Skills Kit (ASK – but it's basically an SDK) to help developers get on board.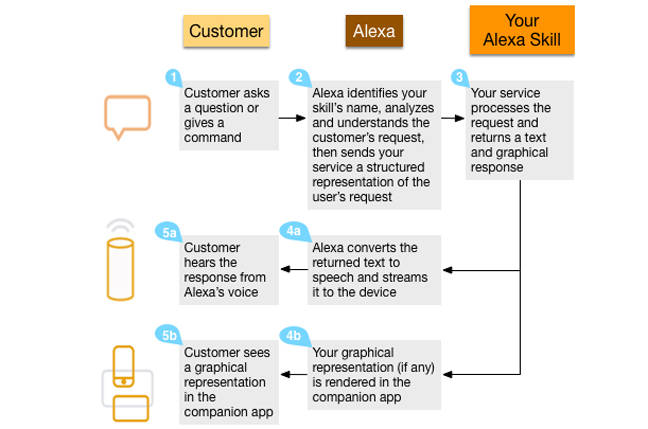 Again, details are a little vague, although some documentation is available. You do have to register an account with Amazon to get access but it's not clear what rules and licensing the company will use.
Amazon does provide plenty of examples as to why it feels it is worth developers' time to dig into Alexa and the sorts of products it expects to see. It also already has signed up a few companies, including smart-home hub Wink and ticket-seller StubHub.
As for examples..
A Wi-Fi alarm clock that lets a customer talk to Alexa, as in, "What's the weather today?" or "What's on my calendar today?"
A car that enables a driver to press the Alexa button on the steering wheel and request anything from Alexa, such as, "Read my book" or "Remind me to pick up flowers after work."
A movie ticket machine that lets a moviegoer say, "Buy six tickets for the next showing of Jurassic World."
A countertop weather station that enables customers to get more information by asking, "What will the weather be next weekend?" or "What was the rainfall in June last year?"
And so on.
Amazon isn't clear on how Alexa would figure out which service to use if, say, there are six different weather apps, or ten different booksellers.
All of this is also relatively new territory for the online bazaar. While it has opened up its systems to third parties before, it typically keeps firm control over what can be done. That's fine if you are selling products through Amazon's website, but it's not going to work if people wish to create products that work with rather than through Amazon's services.
And despite Amazon's best efforts, sales of its Echo smart speaker (aka always-on cylindrical eavesdropping device in your home) may never be sufficient to make it the center of the envisioned platform.
While Amazon has identified Apple's control-freak tendencies as an opportunity to create a rival to Cortana and Siri in smart voice technology, there is precious little evidence that Amazon is capable of handling the more open eco-system that most device makers require before they invest in a developer program. ®