Red Hat Summit Red Hat has launched its Mobile Application Platform, at the company's Summit under way in Boston.
The Mobile Application Platform consists of tools and templates for building mobile applications combined with back-end services to handle features including authentication, data, and integration with existing systems. It is based on FeedHenry, which Red Hat acquired in October 2014.
Supported mobile platforms include iOS, Android, Windows Phone and Apache Cordova.
Red Hat supports the native SDKs for these platforms as well as popular tools from companies including Xamarin, Sencha and Appcelerator. A hosted build farm provides builds for iOS, Android and Windows Phone. The server platform is based on node.js.
Red Hat has added three things to the platform, on top of what it acquired from FeedHenry. The first is integration with OpenShift, Red Hat's public cloud application platform. OpenShift customers now have immediate access to the Mobile Application Platform.
Second, there are new node.js adapters to integrate with JBoss, Red Hat's Java middleware product.
Third, the company has added a push notification service from Aerogear, another Red Hat project.
How much does the Mobile Application Platform cost? OpenShift customers can use it for at low initial cost, but for others there are no published prices. "It's not a self-service option," said Cathal McGloin, VP Mobile Platforms. "We charge by utilisation of the cloud so it can be as little as $1,000 a month to as much as $30,000 or more."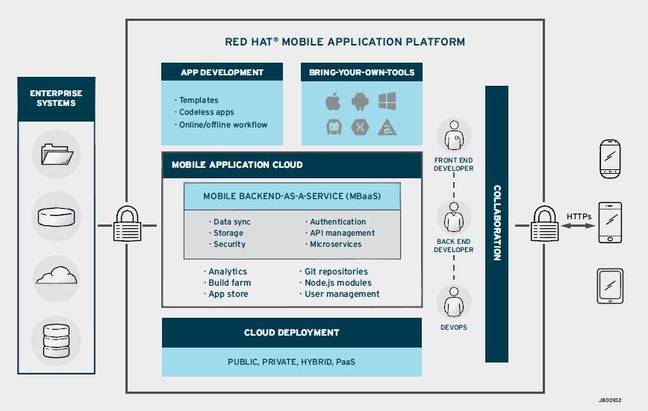 The Red Hat Mobile Application Platform
There are several ways to deploy the Mobile Application Platform. Red Hat can host everything for you, in which case it runs on Amazon Web Services (AWS).
Another option is to make your own arrangements for hosting your custom code, while still relying on Red Hat for platform services.
"The platform has two components. It has a core component which manages the UI, the reporting, multiple tenants and so on. Then you have the customer's code which the customer can write and deploy into their container. We allow the separation of the customer's MBAS – Mobile Backend as a Service – from the core platform. We can put the MBAS on-premise," explains McGloin.
Large customers can also arrange for Red Hat to run the entire platform in their own data centre. "Our largest customer in the UK — a rail infrastructure company I can't name — actually run it in its own data center," said McGloin.
Red Hat plans to package a full on-premises, self-managed version of the product in future. "We will be open sourcing certain components of that later this year," said McGloin.®
Similar topics