Why music sounds bad: The loudness wars
Despite those points, there is plenty of evidence that most recorded music sounds worse than it should. Not because of low resolution digital, but because of the "loudness wars", where music is compressed, reducing its dynamic range to enable a louder average volume. In the worst cases, the loudest passages are also clipped or distorted, robbing the music of its natural impact.
Audio enthusiasts are so indignant about this problem that they have created an online database of the dynamic range of recordings, in an effort to show up the worst offenders. Thanks, perhaps, to increased awareness of the issue, the number of releases wrecked by excessive volume has diminished, but there are still numerous examples.
It is strange that the music industry tells customers on the one hand that they should invest in "better than CD quality", while their engineers, urged on by artists keen to have their music heard above their competition, continue to use excessive compression.
Unfortunately, many of the high-res audio files on offer at websites such as HDTracks or Quobuz are just as compressed as the CD or MP3 versions, leading to audiophile frustration. Another common complaint is that files delivered in high-res formats may be sourced from inferior masters, removing any possible benefit. Specialist labels such as Blue Coast Records or Linn do achieve consistent high quality, but offer only a small selection of artists.
There is generally a price premium for hi-res downloads. Linn, for example, charges £18.00 for a 24/96 or 24/192 download, versus £10 for CD quality or £8.00 for MP3.
The new guidelines aim to raise the standard of hi-res recordings by addressing topics such as using masters recorded or mastered from analogue at "the highest resolution possible", best practices for analogue transfers, and packaging hi-res files with "high quality digital liner notes, credits, and other descriptive metadata".
There is also a plea for "best efforts when documenting the origin format ("provenance") of these recordings, in order to provide as much transparency to consumers as possible," something that is long overdue considering the premium price for these downloads.
The dynamic range issue is not specifically addressed, though it is possible that it could be covered under best practices.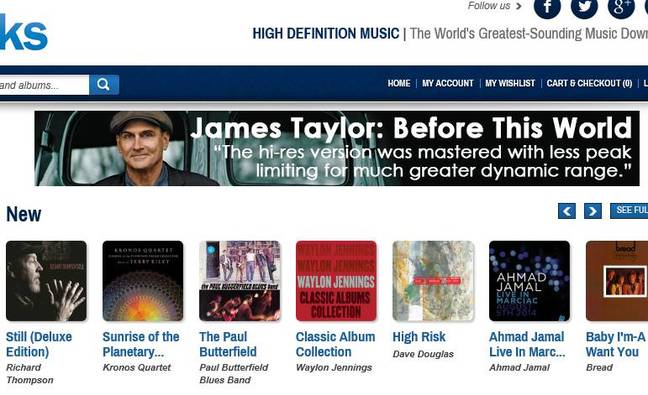 Some hi-res downloads offer better dynamic range - but why should CD purchasers miss out?
A recent release on HD Tracks shows that the loudness campaign is having an impact. Buy the latest James Taylor at 24/96, and note that "this hi-res version of Before This World was mastered especially for audiophiles with less peak limiting for a much greater dynamic range than the CD version."
Good news or bad? You will at least get something audibly better for your money, but that raises the awkward question of why those who buy the CD should be short-changed with something needlessly inferior. ®