This article is more than 1 year old
Network Solutions' 30-day refund has a catch: It'll keep up to 30%
Watchdog tuts at website hosting biz
Network Solutions has been scolded by the US Federal Trade Commission (FTC) for misleading consumers over a "30-day money back guarantee" that wasn't quite what it seemed.
The domain flogger and web hosting company has offered the "guarantee" since 2008 on its hosting deals, which range from $120 to $350 per year. But on a separate webpage that's only accessible through a tiny hyperlink it explains that there is a "processing fee" if you decide to take advantage of the offer – a fee that can be as high as 30 per cent of the cost of the hosting.
That approach breaks the FTC's ".com Disclosures" guide [PDF] for online advertising, James Evans for the FTC's Bureau of Consumer Protection told The Register.
Broadly, given the importance of the information, Network Solutions should either have put the cancellation fee on the same page as its offer, or made the hyperlink clearer and larger.
As it stood, the link to cancellation fee, which was $34.99 per year of service left on the contract, was only discoverable if you read the tiny type at the bottom of the page that mentioned "terms and conditions."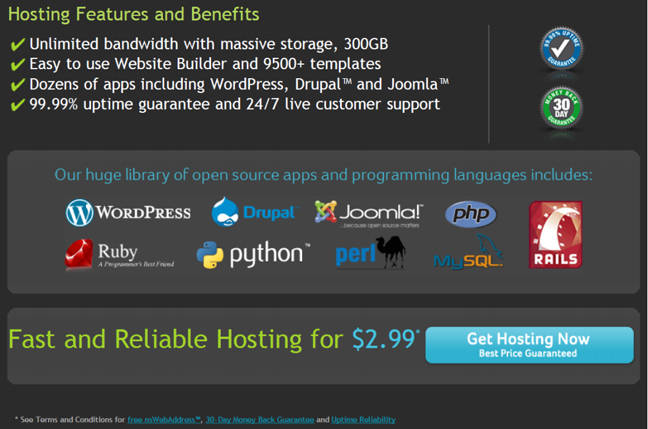 You see that tiny link at the bottom? Yep, that's illegal.
Customers who signed up for long-term contracts did get a bit of a discount on their cancellation fees. If you opted for the highest-end hosting package and signed up for 10 years, paying $3,500 up front, you would have only been charged $179.90 if you canceled within the first 30 days – or just over 5 per cent of the cost. (Yes, we know, who would sign a 10-year hosting deal if they thought they might cancel in 30 days?)
But if you choose the cheapest hosting package for one, two, or three years and decided to cancel within 30 days, the "money back guarantee" would have you pay $34.99, $69.98, and $104.97 respectively – 29 per cent of your up-front cost – in "processing fees".
The FTC was not impressed, with a panel of five commissioners voting unanimously [PDF] that Network Solutions was deceptive in failing to disclose the cancellation fee, and that it also violated Section 5(a) of the FTC Act for carrying out "unfair or deceptive acts or practices."
As a result, Network Solutions is forbidden from conducting any such practices, and the FTC's ruling carries the weight of law. If Network Solutions violates it, it faces fines of up to $16,000 per violation.
In addition, the company will have keep records for five years demonstrating its compliance with the FTC's order, including all records of customer complaints and copies of all ads it runs. It will also have to inform all employees of the order for the next three years and let the FTC know about any fundamental changes to the organization 30 days in advance. ®