Micron blames dismal PC sales for EVERYTHING
But biz thinks 3D NAND will sell like hot cakes and fix all the financial badness
---
Memory firm Micron's third fiscal 2015 quarter results were pretty poor - and the chief exec blames the slumping PC market.
Revenues of $3.85bn were three per cent down on a year ago and eight per cent down sequentially. Net income of $491m compared poorly to the $806m reported a year ago and the $934m in the previous quarter.
What went wrong?
Mark Durcan, Micron's CEO, blamed PCs: "Micron experienced market headwinds driven primarily by weakness in the PC sector." There was a 10 per cent decline in DRAM average selling prices (ASPs) and relatively flat DRAM sales volume, and that was that. However, the numbers were within guidance, so Wall Street wasn't surprised.
Analyst haus Stifel Nicolaus' MD, Aaron Rakers, reported that DRAM revenue declined 13 per cent sequentially and 14-15 per cent year-on-year.
The earnings call revealed that Micron thinks DRAM ASPs will stabilise and is "forecasting DRAM industry supply bit growth in the mid-20s in calendar 2015 and in the low-to-mid 20 per cent range in calendar 2016".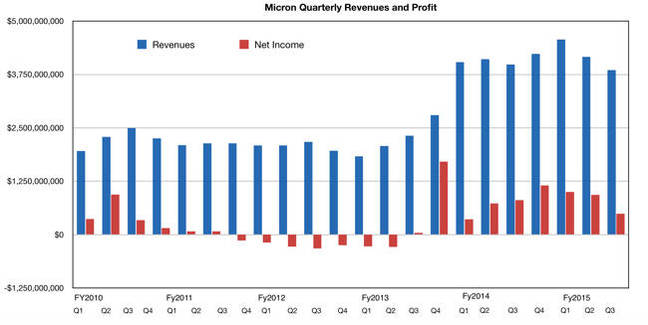 Revenue and profit downturns never do look pretty
Micron should start shipping 3D NAND (32-layer, 256GBit/die, MLC) in low volumes later this year and believes it will sell all it can make. Volumes should rise substantially in calendar 2016. Rakers discusses a possible 48-layer 3D NAND product coming in the second half of 2016.
It's also developing 3D DRAM, and scaling output of 20nm DRAM.
Consumer TLC (triple-level cell) SSDs were released this quarter and Micron expects "to have roughly 50 per cent of our SSDs on TLC by the end of fiscal year 2016". Rakers expects Micron to have 16nm planar TLC NAND SSDs announced later this year.
The first SAS SSD resulting from the Seagate collaboration should launch later this summer.
PC DRAM sales are unlikely to pick up and Micron must be hoping for NAND chip and SSD revenue growth to come from its storage business unit's activities. ®