Facebook may be celebrating gay rights around the world today by encouraging its users to paint their profile photos with a rainbow-themed filter, but the firm will be less proud about its latest diversity report.
That's because the company's workforce remains overwhelmingly white and male.
Facebook's latest "diversity report" revealed that little had changed since the free content ad network first made figures about the gender and race make-up of its staff public in June 2014.
The Mark Zuckerberg-run company, which globally has more than 10,000 employees on its books, said that 68 per cent of its worldwide workforce was male.
It added that even fewer women were employed in the tech division of its biz – where just 16 per cent of its IT workers are female.
The figures have shifted just one per cent in favour of women Facebookers in the past year, both within the general workforce (which stood at 69 per cent male in 2014) and the techie wing of the business (85 per cent male last year).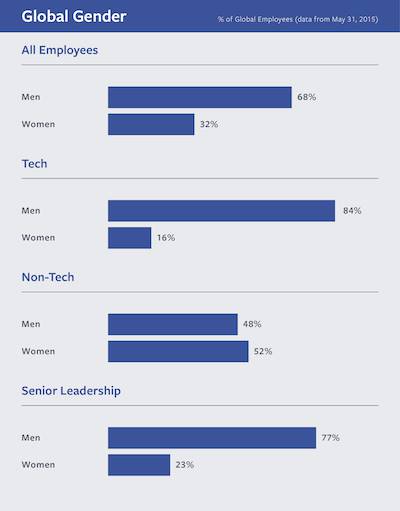 Facebook also offered a breakdown of its ethnicity numbers in the US, where 55 per cent of staffers are white and 36 per cent are Asian, compared with 57 per cent and 34 per cent respectively as of June 2014.
The 2015 figures drop dramatically for Hispanic (4 per cent) and black (2 per cent) people working at Menlo Park, however, where there has been no change 12 months on since Facebook first released its diversity numbers.
Facebook's diversity boss Maxine Williams confessed that change in the multinational's workforce had been "modest".
"While we have achieved positive movement over the last year, it's clear to all of us that we still aren't where we want to be. There's more work to do," she said.
"We remain deeply committed to building a workplace that reflects a broad range of experience, thought, geography, age, background, gender, sexual orientation, language, culture and many other characteristics."
America should be very proud. #LoveWins pic.twitter.com/qH1OA1BV2j

— The White House (@WhiteHouse) June 27, 2015
One day after Facebook published its less-than-pretty diversity report, the company unveiled a new rainbow filter feature, which allowed users to celebrate the US Supreme Court's landmark decision to make same-sex marriage legal nationwide. ®
Similar topics