Charles Brookson – the man behind the encryption algorithms in GSM mobile networks – has collected his OBE from the Queen.
Brookson led the team that produced the A5/1, A5/3 and A5/2 algorithms used by countless mobes worldwide to encrypt calls from eavesdroppers.
He recently stepped down from his role as chairman of the GSM Association Security Group, which he led for 25 years, and has worked in all kinds of security and encryption roles including being Director of Standards & Technology at the UK government's Department for Business, Innovation and Skills.
Brookson, a keen motor caravanner, has worked as head of corporate security at one2one (later T-Mobile, currently EE) and in BT Corporate Security. Brookson says that when A5/1 was conceived thirty years ago, it was expected to have a lifetime of 20 years. It took about 22 years for someone to crack the algorithm in a practical way, and despite the massive increases in computing power and the use of rainbow tables, it is still largely secure from all but the intelligence services. Most networks have now been upgraded to one of Charles' later algorithms.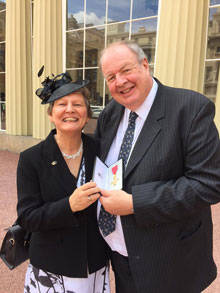 Whisky buff Brookson is chairing a new standards group called TC CYBER, an ETSI committee to standardise cyber-security in Europe, and is a consultant at mobile technology practice Azenby.
Brookson, seen here with his wife Helen, was made an OBE in the New Years Honours "for services to telecommunications security," and collected his gong from Buckingham Palace on Wednesday this week.
He told El Reg: "I think the guy who got the military cross deserved his award more than me. I really do owe a debt to everyone who has helped me along the way."
Lots of Reg readers will write security software, but very few will have it in active use in over six billion devices. It is, however, good to note that software security is held in high regard by the Queen. ®