This article is more than 1 year old
Microsoft says Oculus Rift distorts world, grinds corrective lenses
Free-to-download CAD file makes for better virtu-blinker goggles, insists Redmond
Someone at Microsoft Research is apparently unimpressed with Oculus Rift's perspective on the world, so has corrected it with lenses that give you Microsoft's view of things.
Redmond's vision is expressed in this little CAD file that's popped up at Microsoft Research, offering you all you need to give your Occulus the Microsoft treatment.
"The field of view is slightly smaller than the stock lens but it is sharper across the field and has far less chromatic aberration," the Readme file for the lenses claims.
The research project isn't just a goodness-of-the-heart thing. It's also a demonstrator for another project: "The lens was automatically designed by the LensFactory program developed at Microsoft Research", the post notes. The Register guesses that the project was a kind of de-cloaking for LensFactory.
The lenses* Software bundled with the project "corrects the lens distortion", Microsoft Research says, producing better quality outputs than the standard lenses.
While the Microsoft Research design says it uses "off the shelf lens elements from Edmund Optics", that doesn't necessarily mean they're cheap. One Redditor checked the prices here, and worked out the DIY project would set you back US$200 an eye.
Here's one reason for the high price, again from the Readme: "Be sure to buy the version that has visible light (VIS) antireflection coating. If you buy the version without antireflection coating the contrast of the image will be noticeably worse."
You also need a decent 3D printer. The design notes say: "We printed ours on an Objet Eden 260 using Vero Black material at the highest resolution setting. We haven't tested any other printer but you may have issues with hobbyist FDM printers because the thin crush ribs that hold the lens elements in place may not print properly."
Here's the assembly diagram from the project.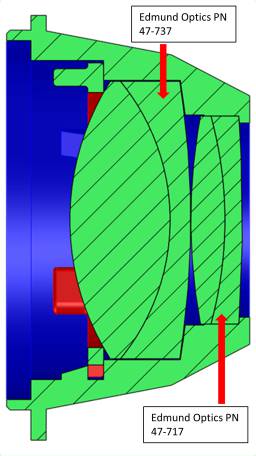 The knee bone's connected to ...
Here's a comparison of the two lenses.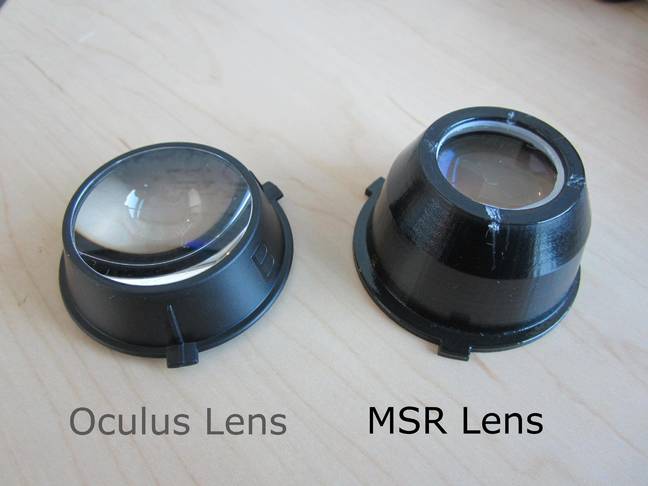 Ours is BIGGER, say Microsoft Researchers
There's a comparison of image quality below. ®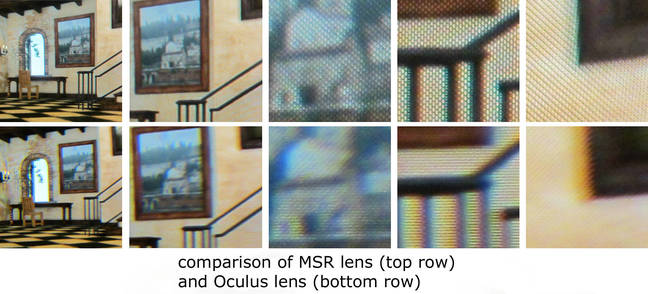 *Bootnote: One of the project team, Brian Guenter, has contacted The Register with a correction: "there is one point you might want to clarify. The lens itself does not correct distortion.
"Our lens and the Oculus lens both introduce significant distortion, which is corrected in software. The download includes a software script which will correct the particular distortion introduced by our lens." ®