The cloud storage market is a three-way race with the trailing pack choosing to occupy niches rather than challenge the leaders, according to the market scryers of Gartner.
The firm last week issued a new "Magic Quadrant for Public Cloud Storage Services, Worldwide" that listed just seven providers: AWS, Google, Microsoft, IBM, Rackspace, AT&T and Verizon.
As the quadrant below shows, the first three companies we've mentioned are all designated leaders and the latter four are niche operators. Unusually, the analyst firm found no visionaries or challengers in the market.
AWS is lauded for the breadth of its offerings, but criticised for complex pricing and a lack of a common API for S3 and Glacier. Gartner also reckons AWS' channel is "... struggling to balance customer expectations of a high degree of expertise with capabilities delivered as industrialized services at competitive costs."
Microsoft gets a mixed review. On the upside, its StorSimple appliances make hybrid storage easy and the company "... simpli€fies vendor engagement for organizations unable or unwilling to handle complex vendor relationships." On the downside, StorSimple is block-only, so customers who want more need to go down the multi-vendor route anyway. There's also a red flag regarding lack of links between Azure storage, Office 365 and OneDrive, which Gartner laments as "limiting integration of data environments."
Google wins applause on price and its content delivery network, but Gartner worries its channel can't step up to applications like disaster recovery and that the company is nowhere in serving highly-regulated clients like government.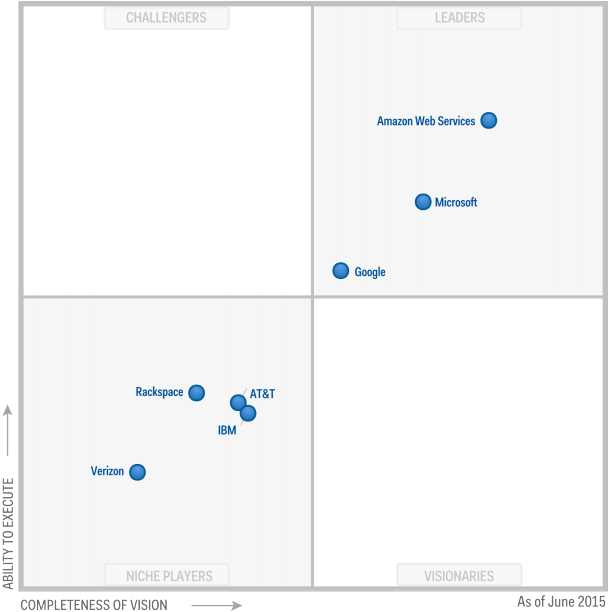 Mirror mirror in the box, which cloud storage really rocks?
Gartner's 2015 cloud storage magic quadrant
Among the chasing pack, Gartner says IBM may be opening data centres like mad but they're small. The " … infrastructure scale … is modest when compared to its key competitors, which may be a constraint for some customers that require massive bursts in scalability in an on-demand manner," Gartner suggests. Verizon gets a nod for S3 compatibility, links to bit barns and suitability for media distribution, but Gartner says the service is nascent so needs to be approached cautiously. Rackspace's OpenStack efforts are good news as that project gathers pace and users, but Gartner worries its own pace of innovation is slowing as the Cloud Files service has not had meaningful upgrades of late.
AT&T is applauded for its connectivity options and EMC alliance, but Gartner worries it has no block or file services and therefore isn't much of an option for many users.
Overall, Gartner says "The 'hyperscale' vendors — Amazon, Microsoft and Google — are expanding their dominion over the marketplace with smaller and newer vendors looking to focus on niche opportunities. Vendors are gravitating toward a model where either commodity storage capabilities serve to attract customers into a larger compute and application ecosystem, or specialized niche capabilities directly serve and emulate the built-for-purpose needs of an exacting customer."
The firm also says that latency, bandwidth limitations and "lack of physical control of, and access to, a storage infrastructure" collectively "... limits the appeal for primary storage use cases". Those seeking "a full-service cloud-archiving solution where latency is not a concern" can go all-in for cloud. The rest of us need to do our sums very carefully before committing. ®