HP one of the fairest, claims Gartner's magic quadrant on the wall
Dell, HDS non-inclusion could be seen as a distortion
---
Gartner has announced that HP has joined the leaders in its all-flash array magic quadrant, while Violin Memory, Nimbus Data and Cisco have been demoted, and Dell and HDS are excluded altogether from the MQ because of the research giant's peculiar classification criteria.
The MQ classifies suppliers in what Gartner calls the Solid State Array (SSA) market, but which everyone else calls all-flash arrays (AFA).
Only arrays which have a unique model and ordering number — and which cannot have disk drives added — are included in the Gartner mix, which means Dell and HDS AFAs are excluded.
While such players remain excluded, the MQ presents a distorted picture of the AFA Market's players.
Pure continues to be the main startup and is in joint first place with EMC in MQ terms, possibly first place.
Solidfire and Kaminario have both moved closer to the Visionary/Leader quadrant boundary and could break through into the Leader's quadrant.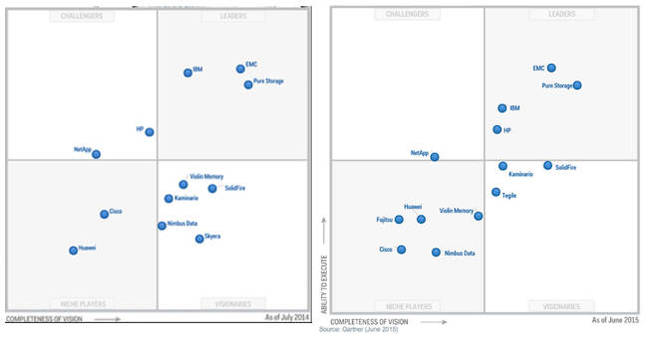 Gartner AFA MQ for 2014 and 2015. Click to enlarge chart
Major changes:
IBM stays a Leader but falls in ability to execute
HP moves from Challenger to Leader Quadrant in fourth place behind Pure, EMC and IBM
Violin Memory moves from Visionary to Niche Player
Tegile appears in the Visionaries quadrant
Kaminario and Solidfure positioning in the Visionary quadrant both improve
Nimbus Data moves from the Visionary quadrant to Niche Player's
Skyera disappears, having been bought by WD/HGST
Cisco's Niche Player's position weakens
Huawei's Niche Player's position improves
Fujitsu appears for the first time, in the Niche Player's quadrant
Fujitsu introduced its DX200F in March, and Gartner says of this: "Fujitsu's short-term tactics are to resell the Violin Memory SSA when customers require larger capacity SSAs, and the DX200F when smaller capacities are required. This will continue until Fujitsu has its own larger capacity offerings and data reduction ability."
Other snapshots from the MQ include:
There hasn't been much innovation and sales execution from Cisco after the Whiptail acquisition, casting a shadow on Invicta's future
EMC has been able to successfully sell and market XtremIO due to its vast sales force, channel bandwidth and execution prowess
HP's scale-out approach and lower entry point in the market was supported by a re-galvanized sales and marketing campaign that paid dividends for HP during the second half of 2014, with substantial revenue recognition and market share gain
Huawei derives more than half of its revenue from Asia/Pacific customers, but has had severe brand perception and execution challenges in the US
IBM led and outgrew the market in terms of shipments; however, it did not grow as fast as the market in revenue
After raising $68m between December 2014 and February 2015, Kaminario will now need to raise its share further in order to attract leading channel partners, grow internationally and, ultimately, continue to grow sales
There is significant overlap in NetApp's solid-state array product portfolio, with three different products causing confusion among customers about sustainable innovation and long-term viability of each of these products
Due to lack of resources and external funding to expand, [Nimbus Data's] market share has been declining
Pure Storage demonstrates that it understands customer pain points through new creative pricing and guarantee programs around controller upgrades, SSD warranties and maintenance pricing
SolidFire's success in the market is predicated on rapid evolution of multi-tenant private clouds, which have been plagued by technology immaturity and cultural challenges in the enterprise
Tegile is a relatively new entrant in the SSA market. Over a short period of time, it has achieved good market adoption of the T3800, which only became available in June 2014
Now that Violin is focusing aggressively on selling its more competitive 7000 series products, its success will be dependent upon the merits of its software and its ability to attract quality channel partners in order to achieve its revenue growth targets
This is an extraordinarily instructive quick look at the AFA market and it is a shame that both Dell and HDS are excluded as they are both, we understand, selling lots of all-flash array equipment and would, we estimate, appear in either the Challenger's or Leader's quadrants and probably the latter.
Until they do appear this AFA, MQ's picture of the market's players is a distorted mirror view.
Get a copy of Gartner's latest AFA MQ from Pure's website here. ®