This article is more than 1 year old
China's best phone yet: Huawei P8 5.2-inch money-saving Android smartie
Sleepless in South Korea
Review Huawei's P8 has finally rolled into UK shops, the latest wave of China's assault on Tier One Android flagships.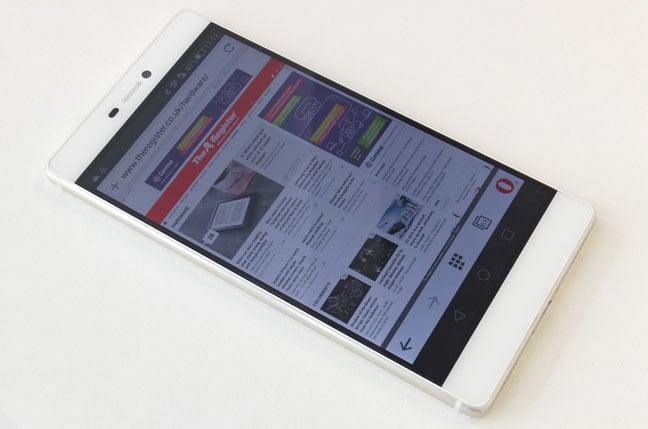 Huawei's P8: set to give South Korean phone makers sleepless nights
If you don't know the Huawei proposition, here it is. You won't get all the bells and whistles from a phone that arrives on a £40-£50 contract, or that's priced at over £500 SIM free.
Yet on a £20-25 contract or around £380 SIM free, you'll be getting a high-end Android you'll be perfectly happy with it — and you'll be between £200 and £300 better off. So, is this enough to lure punters away from strong contenders from Samsung, LG and Apple? Let's see.
Basically, it's a 5.2-inch glass slab running Huawei's own octo-core chipset, with an impressive camera. It's all based on the older but more reliable Android 4.4 KitKat. We've received two hefty updates since the April launch event, with some features subtly changed — if you spy an older review, it may not be accurate.

China's iPhone wannabe
There's a strong emphasis on design, which like the P7 uses the flat back approach Apple introduced in the iPhone 4 (and this is not the only feature copied from the iPhone, as we'll see). I much prefer something contoured, as it's more comfortable and practical to hold, but that's just me.
As with the P7, the phone's microSD slot can be used for a second SIM card, saving a lot of hassle when roaming. Huawei has gone with a fine 1080p (424ppi) display. The P8 still packs a decent battery 2680mAh into the slim (44.9mm x 72.1mm x 6.4mm package, 144g) housing. What it won't give you is waterproofing or wireless charging.
There's no sign of cost-cutting anywhere — even in the retail box, which is intended (Strategy Boutique KLAXON) to evoke a library. No, really, that's what they say. It's almost all metal and glass, apart from a couple of antennae joints. Huawei has continued to pare away at the bezels — here they're very thin and you feel you get a lot of display for your money.
The display goes from almost pitch dark to perform reasonably well in sunlight (certainly better than the most expensive option on today's market, the iPhone 6 Plus).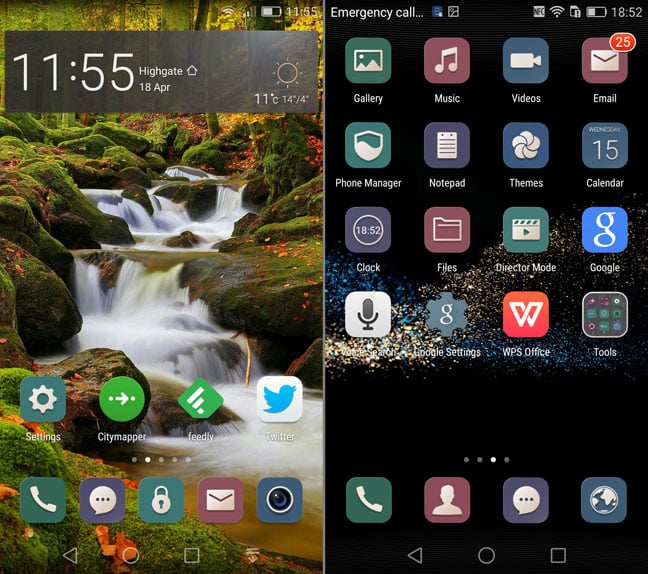 Home screen and apps
Huawei's shell ("EmotionUI") is fairly polished. Clearly Chinese consumers want something very iPhone-like, because Huawei does away with the Android app drawer, and puts everything on the home screen. I don't particularly mind that.