Core components
The chip is what allows Huawei to deliver the P8 with a mid-range price — but the savings have been splurged on some excellent camera work. The company uses its own Huawei Kirin 930 silicon in the device, and ARM A53-based octo-core clocking in at 2GHz. These figures are generally meaningless, as the performance is a function of the core management.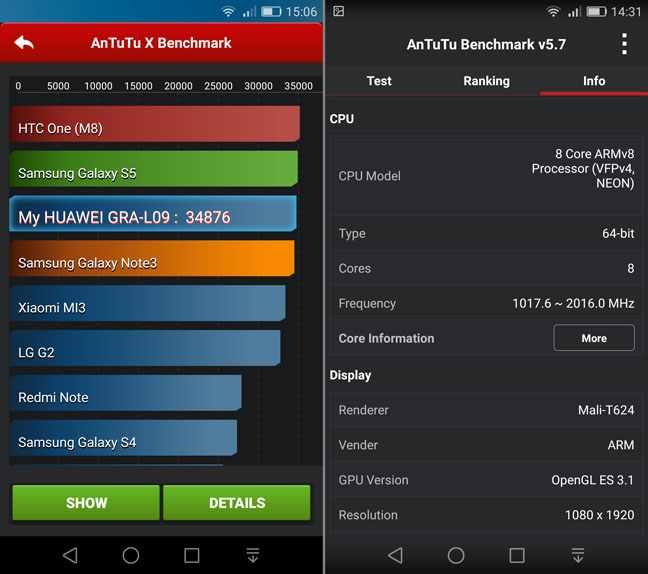 AnTuTu benchmarks: a respectable rather than stellar performance
In practice, I found it a speedy performer for most tasks which don't push the graphics hard, yet without the real zip of this year's Exynos-based Galaxy or the Snapdragon 808 (LG G4) or 810 powered (HTC One M9) models. Certainly, 3GB of RAM helps here. It's on graphics-intensive work where the chip lags behind the latest and hottest.
Exhaustive benchmarking by Anandtech reveals that it's really workload related. The P8 scored well for video playback and memory throughput, but relatively poorly for web browsing. Overall it's where you'd expect, namely, middling.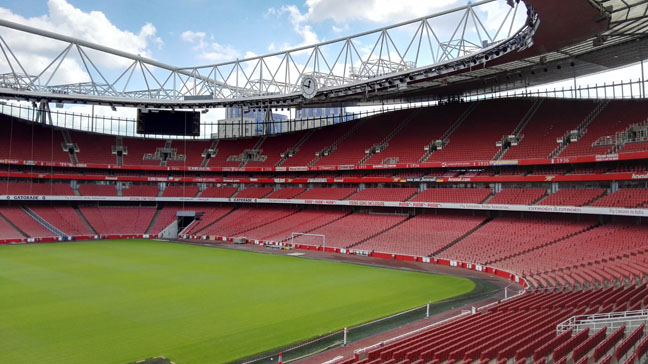 Click for a full-resolution image
Nor was there a dramatic gain in power management. It comfortably got through a day, but without threatening to steal Sony's crown as the power management champ. Taking all the factors together, this HiSilicon Kirin just isn't a leading edge chipset.
A couple of unique features that Huawei touts are own-brewed Wi-Fi and cellular innovations, tucked away deep in the settings under "LINK+". They seemed superfluous, as I had no problem with either. Huawei is a first class 4G company, and radio performance is excellent.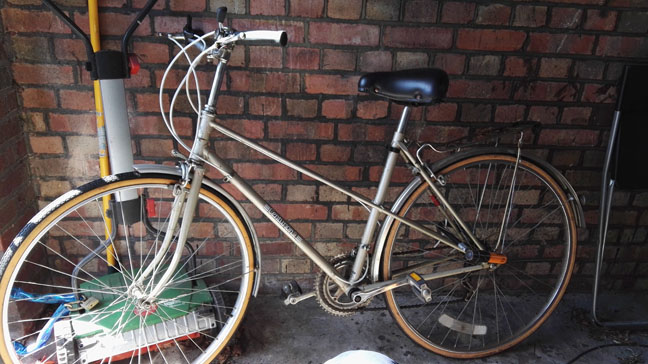 Works well in challenging light conditions. Click for a full-resolution image
These features crank up the rate at which the chipset looks for a Wi-Fi or mobile network signal and holds onto it – something that might be useful on a train, but might drain power otherwise. It was slightly surprising not to see 802.11ac included – as it is on some flagships.
Note that the P8 doesn't support either Fast Charging or any kind of wireless charging. In fact, the phone was the slowest charger of any I've tried, bar the BlackBerry Passport.
But that beast has a stonking 3450mAh battery, and you'd expect that to take a lot longer to power up.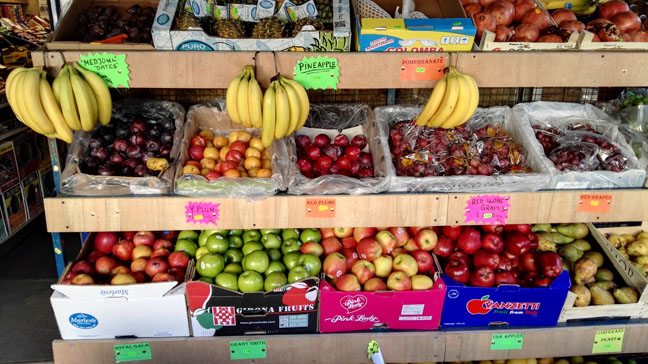 Click for a full-resolution image
However, the camera is where the P8 shines. The F/2.0 13MP unit turned in outstanding results in low light, and decently detailed and well balanced pictures. Tweaks continue to improve the imaging unit, which was a little on the overexposed side at first.
There's no slow motion video option, or 4K shooting, the gimmick here being light painting. Which is nice, but surely not something you'd ever try more than once or twice. Whereas slow-mo keeps kids occupied for hours.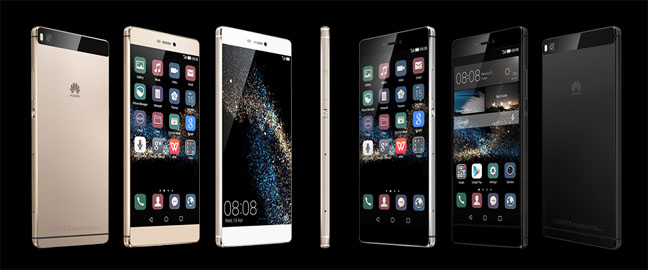 Well turned out and with micro SD expansion to boot
The Reg Verdict
The Huawei P8 represents the classiest and most capable Android from a Chinese manufacturer yet, and a strong advance from last year's P7. The hardware design is superb and it has a terrific camera. The biggest differentiator is actually quite useful: the microSD slot doubles up as a SIM slot, too.
The stuttery performance and annoying popups that marred last year's P7 have been banished. There's a lot to like with thrown-in features like call blocking and security.
At the same time, there's no scene-stealing standout feature to grab the attention, like the timesaving fingerprint sensor on the Galaxy S6. You can't do slow motion video, as you can on other flagships. The rivals can also tout features like waterproofing and long battery life.
The aftermarket for accessories is a lot weaker (to put it kindly) than for a top-end Samsung, LG or HTC.
The branding has been banished from the front of the device completely such that Huawei's relatively low profile here may deter cautious buyers. Yet if you can live with this, you'll have a solid performer, and have cash in your pocket. ®

China's best phone yet: Huawei P8 5.2-inch money-saving Android smartie
Mid-range Android with high wend pretensions featuring a 5.2-inch full HD display, 2GHz octo-core CPU, 3GB of RAM, 16GB internal storage, micro SD expansion and the option for dual sim use
Price:
£380 (16GB), £TBC (64GB) RRP