Sky bangs on Ofcom's door – demands BT competition probe
But former state monopoly claims Openreach split would harm UK market
---
Blighty's communications watchdog declined this morning to comment on Sky's demands for an in-depth competition probe of BT's broadband biz.
Sky has argued in its submission (PDF) to Ofcom today that the regulator should ask the Competition and Markets Authority to intervene with a full inquiry into BT's strong grip on the UK's telecoms network.
However, Ofcom refused to be drawn on the row between the two ISPs. Instead, a spokesman told The Register:
Ofcom is carrying out an overarching review of the communications market, including questions around structure and competition.

We welcome evidence and analysis from all parties to help inform that work, and we will publish an update in the summer.
Sky's chief strategy wrangler Mai Fyfield said that the media giant was particularly fed up with the infrastructure wing of BT's business – Openreach:
"We are drawing attention to the problems in broadband because they are important to the economy as a whole," Fyfield said. "They affect competition between providers and have a direct impact on consumers and small businesses, resulting in inconvenience, dissatisfaction and loss of productivity."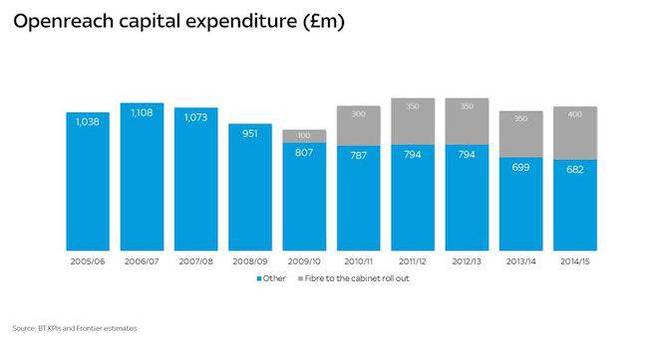 Graph shows estimates on BT's Openreach capex on – among other things – maintaining its copper network, which fell by around a third over the last decade, according to consultancy outfit Frontier Economics on behalf of Sky
Sky, TalkTalk and other rival players in the UK's telco market have repeatedly lobbied for Openreach to be divorced from BT.
However, BT responded to the gripes with a particularly punchy statement to El Reg this morning, in which it accused Sky of "selective spin". A spokesman at the one-time state monopoly said:
They claim that Openreach investment is down, yet it is up. They can only substantiate their claim by ignoring the billions of pounds we have pumped into fibre broadband.

They also make claims about customer service while failing to acknowledge that Openreach has passed all sixty of the service targets it was set by Ofcom.

We acknowledge there is more to do on customer service, but breaking up BT is not the answer.
He claimed that splitting Openreach from BT "would lead to huge uncertainty and fundamentally undermine the case for future investment, dragging the UK backwards". ®