Microsoft has released Build 10149 of Windows 10 Mobile to members of the Windows Insider preview programme's Fast release ring.
It follows just 10 days after the release of Build 10136, and this time round you can update from a previous preview, rather than having to reset your phone back to Windows Phone 8.1 first.
Microsoft's phones-'n-slabs version of Windows 10 is looking increasingly polished, and the upgrade went smoothly on a Lumia 830. Performance has improved, and although the user interface is still a little unresponsive, it looks almost release-ready. (Then again, after typing this paragraph the phone spontaneously rebooted, so maybe not quite).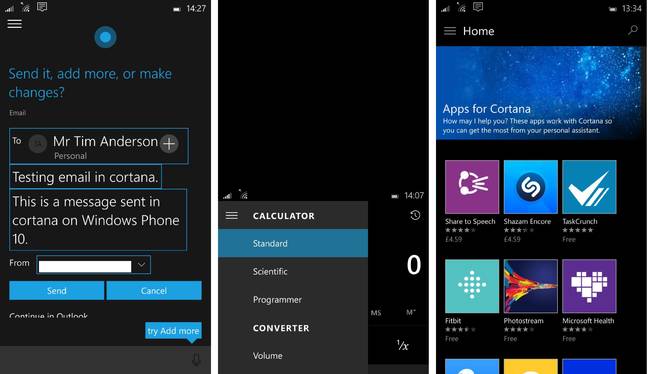 From left to right: sending an email with Cortana, sliding down a menu, and Apps for Cortana
Cortana now has the ability to send emails. Saying "send email to x" starts a voice-operated sequence, including an option to make changes if your dictated message is not quite right.
The Windows Store Beta also now includes a section for "Apps for Cortana," indicating Microsoft's hope that third-party apps will integrate with its digital assistant.
One feature announced for Build 10136 now works on the 830, where previously it didn't. This is where you press and hold the Start button to have screen slide down, so you can reach a top-left menu with one hand. The feature is a little ugly, since the top half of the screen is pitch black – it would be better to show the lock screen image there – and the "hamburger" menu is still not that easy to hit with your thumb. Still, it's better than nothing.
There are a few other small improvements. A flashlight app now appears in the Action Center, summoned with a swipe from the top. The web browser, previously identified by the codename "Project Spartan," is now officially branded Microsoft Edge. The Photos app supports animated GIFs.
In addition, there are a number of bug fixes, though there is also a list of known issues including an ugly one where entering your PIN may fail and require your phone to be reset if you do not leave it alone for a couple of hours (although this apparently happens rarely). In-app purchasing does not work yet, because of the ongoing transition to the new Store.
Microsoft CEO Satya Nadella recently wrote in a leaked internal email about "tough choices in areas where things are not working," which could mean bad things on the horizon for the loss-making smartphone operation acquired from Nokia, especially when put together with the unexpected departure of ex-Nokia boss Stephen Elop.
On the other hand, Nadella also spoke of building "the best instantiation of this vision through our Windows device platform and our devices," which suggests a future of some kind for Windows 10 Mobile. The poor sales of the Lumia range since the acquisition is unsurprising, given that the operating system has been near-frozen pending the launch of Windows 10.
Encouragingly, Windows 10 Mobile currently feels more finished than the most recent version for PCs (Build 10130), and it's vastly improved from the early builds. On the software side, a forthcoming Android emulation layer along with Objective-C support in Visual Studio may help to fix the app gap. Judging by this release, Redmond is right to give it one last shot. ®
Similar topics