Microsoft has released its bestest new build of Windows 10 as part of its Windows Insider preview programme, with general manager Gabe Aul boldly stating: "we don't have any significant known issues for this build."
Since the company has promised to release Windows 10 on July 29, you would expect it to be pretty much sorted at this point. The new build does (at last) have the feel of a release candidate.
The new "Edge" browser, formerly Project Spartan, now has the correct branding and the Windows Store is no longer marked as beta. I am typing this in the Universal Office version of Word, and it is stable. For the first time, this is a build of Windows 10 with which you might be able to get your work done.
I tried the new build both as an upgrade to build 10130 (the previous "Fast Track" build, for those on the bleeding edge) and as a clean install. Both installations proceeded without major issues, though the upgrade has a couple of broken shortcuts in the Start menu.
The clean install was deceptive, since after set-up seemed complete the Store still had 20 downloads to do, including key built-in apps such as Music, Camera and Photos, and others that are not really apps, such as "CRT RTM" (presumably a Visual C++ runtime), "VCLibs 12", "PlayReady Blue" and "drm". It seems that Microsoft is using the Store mechanism as an alternative to Windows Update for some Windows components.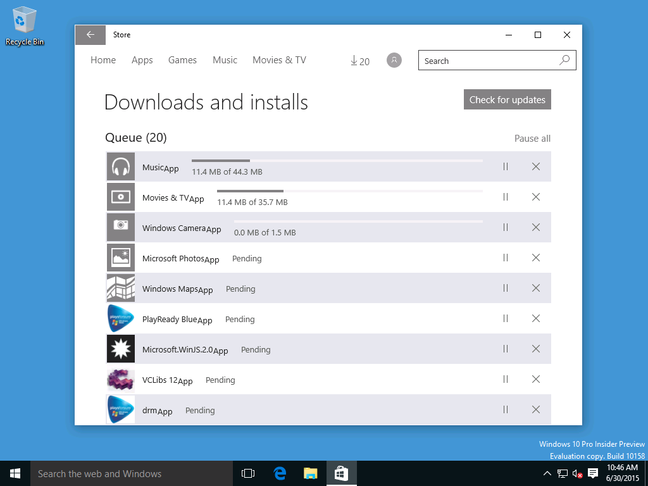 Windows is not fully installed until some apps download, including some oddities
Cortana, Microsoft's digital assistant, works on one machine set to US English, but on the other – set to UK English – she proclaims herself unavailable "in the region and language you've selected". According to Aul, Cortana's "Notebook" (the database of personal information which informs Cortana's suggestions) is now in its final stage, and includes flight tracking derived from emails and alerts for going to work or home. As in Windows Mobile 10, Cortana can now send emails. There is also integration with Office 365, for those using Microsoft's cloud for email and document collaboration.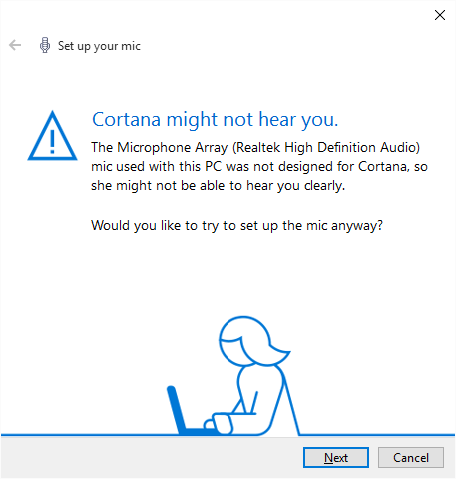 Cortana is fussy about microphones
Similar topics