A worm which walked on legs and was adorned with vicious spikes is likely to have been one of the first animals on Earth to have donned armour for its own protection, say palaeoboffins who have identified the wee beastie.
The "super-armoured" worm, a previously unknown species from 500 million years ago, ate by filtering nutrients out of seawater with its feather-like front legs. It was among the first armoured creatures and the earliest so far identified to have fed in this specialised way.
Discovered by palaeontologists from the University of Cambridge and Yunnan University in China – where the critter originated – it was detailed on Monday (June 29) in the journal PNAS, under the title A super-armored lobopodian from the Cambrian of China and early disparity in the evolution of Onychophora.
The worm belongs to a poorly understood group of early animals from the Cambrian period, the era during which multi-cellular organisms began to proliferate. It is a period of the Earth's history almost as distant from the existence of dinosaurs as the dinosaurs' existence is from us.
The creature has been dubbed Collinsium ciliosum, or "Hairy Collins' Monster", after the palaeontologist Desmond Collins, who discovered and first illustrated a similar Canadian fossil in the 1980s.
The boffins' detailed analysis of its form and evolutionary relationships indicates that the Chinese Collins' Monster is a distant early ancestor of modern velvet worms, or onychophorans – a small group of squishy animals resembling legged worms that live primarily in tropical forests around the world, according to the Cambridge team.
"Modern velvet worms are all pretty similar in terms of their general body organisation and not that exciting in terms of their lifestyle," said Dr Javier Ortega-Hernández of Cambridge's Department of Earth Sciences, one of the paper's lead authors. "But during the Cambrian, the distant relatives of velvet worms were stunningly diverse and came in a surprising variety of bizarre shapes and sizes."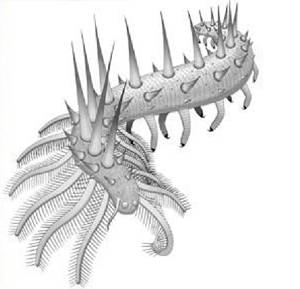 By Javier Ortega-Hernández
Ortega-Hernández and his colleagues managed to identify a remarkably well-preserved fossil from Southern China, which included details of the full body organisation, the digestive tract and even a delicate coat of hair-like structures on the creature's front end.
The Chinese Collins' Monster had a soft and squishy body, six pairs of feather-like front legs, and nine pairs of rear legs ending in claws. Since the clawed rear legs were not well-suited for walking along the muddy ocean floor, the boffins reckon Collinsium eked out an existence by clinging on to sponges or other convenient perches with its back claws, while sieving out its food with its feathery front legs.
Some modern animals, including bamboo shrimp, feed in a similar way, capturing passing nutrients with their fan-like forearms.
The scientists note that given its sedentary lifestyle and soft body, the Hairy Collins' Monster would have been a sitting duck for any predators, so it developed an impressive defence mechanism – as many as 72 sharp spikes of various sizes covering its body, making it one of the earliest soft-bodied animals to develop armour for protection.
"Animals during the Cambrian were incredibly diverse, with lots of interesting behaviours and modes of living," said Ortega-Hernández. "The Chinese Collins' Monster was one of these evolutionary 'experiments' – one which ultimately failed, as they have no living direct descendants – but it's amazing to see how specialised many animals were hundreds of millions of years ago."
Ortega-Hernández added: "All the major biological events responsible for shaping the world we inhabit, such as the origin of life, the early diversification of animals or the establishment of the modern biosphere, are intimately linked to the complex geological history of our planet."
The research was funded by the National Natural Science Foundation of China, Emmanuel College, Cambridge, and the Templeton World Charity Foundation. ®