Toshiba has introduced a downrated version of its MG04 6TB disk drive, suitable for bulk storage and cloud-based apps requiring less data transfer velocity than the standard model.
This feat is accomplished by retaining most of the feeds and speeds, such as the 7,200rpm spin speed, but giving it a 6Gbit/s SATA interface instead of the MC04's 12Gbit/s SAS option.
Toshiba doesn't say how many platters it has but we think, based on the picture Toshiba supplied, the 6TB model has 5 x 1.2Tb platters. The 6TB model weighs 770g whereas the others weigh 720g, suggesting the 6TB product has an extra platter and read/write head.
It's a nice steady evolution of the uprated MC04ACAnnnE generation of drives that topped out at 5TB capacity, using 5 x 1TB platters. Tosh says the new MC04 is 20 per cent more power efficient as well as having 20 per cent more capacity than these drives.
The increased power efficiency is no big deal; use the same motor and electronics and increase capacity by 20 per cent and your watts/TB figure goes up automatically.
The company says its latest drive "supports the industry-standard 180TB transferred per year workload rating, optimising it for lower tier workloads in high capacity, scale-out cloud-based storage and server use cases". The 12Gbit/s SAS MC04 supports a 550 total of TB transferred per year workload rating.
The transfer speeds are:
2TB — 140MiB/s minimum, with a MiB being 1,048,576 bytes
3TB, 4TB — 150MiB/s min
5TB, 6TB — 170MiB/s min
For comparison, the 12GBit/s SAS MC04 offers a sustained 205 MiB transfer speed. Its mean time to failure (MTTF) rating is 1.4 million hours; the downrated MC04's is 800,000 hours; pay less; get less.
We await Toshiba introducing an even larger cap drive using shingling, partially-overlapping write tracks producing more and narrower read tracks on the disk surfaces.
Both Seagate/Samsung and WD/HGST have got shingled drives in their armoury.
Toshiba has a smaller but growing 3.5-inch drive market share compared with these two behemoths, and it faces the same capacity increase hurdles as Seagate/Samsung.
HGST has its helium-filled drive technology which gives it an extra platter in the same enclosure space and so a capacity edge over Seagate/Samsung and Toshiba.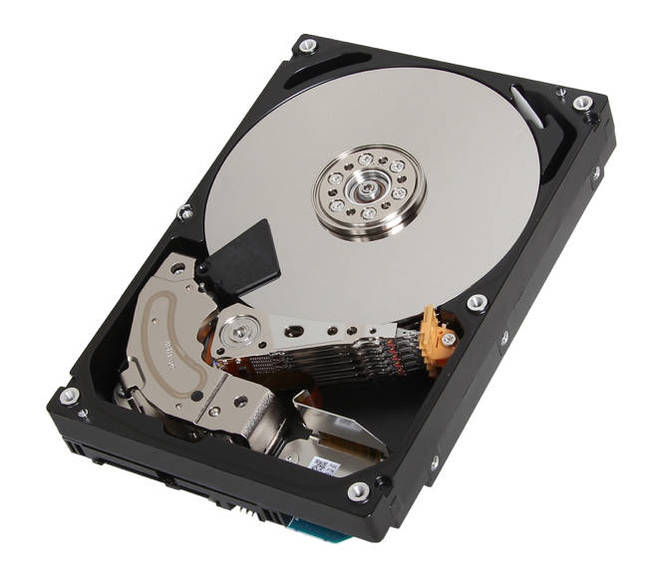 Toshiba 6TB MC04 HDD. Do you see five or six platters?
All three suppliers also face the costly transition from today's perpendicular magnetic recording (PMR) to heat-assisted magnetic recording (HAMR) to achieve smaller bits than PMR can produce, and so step forward into new and higher capacity levels.
Perhaps another revue of PMR technology will enable 1.4TB platters and enable 7TB drives before the HAMR cost blow falls.
Toshiba's MC04 will start sample shipments in August. ®