This article is more than 1 year old
DataDirect introduces its hyper-converged Wolf in Creek clothing
Pony-tailed CEO spills beans on his firm's rather racy system
DataDirect is building WolfCreek, a 5 million IOPS converged compute and storage appliance, with vastly enhanced IO processing and 60GB/sec bandwidth.
Ponytailed CEO and co-founder Alex Bouzari spilled a few WolfCreek beans at a Silicon Valley briefing on June 22.
It sees storage and compute converging and its edge here is to bring its supercomputing/HPC expertise to bear on the IO side, with its WolfCreek hyper-converged system.
This comes in two packages. One is the converged, turnkey compute and storage 4U appliance. The second is as software on an commercial-off-the-shelf (COTS) server set-up, with a 12U rack footprint and six nodes – two per 4U.
DDN claims that the WolfCreek appliance will speed IO by up to 10,000x, file system work by a hundred times, accelerate apps by ten times and provide 5 million IOPS – all from one 4U node.
This WolfCreek appliance will have two and a half times the performance of an all-flash Hitachi VSP G1000 array, which is top of the SPC-1 storage benchmark rankings with a score of 2,004,941.89 IOPS from a 28-node set-up, list priced at $2,004,941 in October 2013.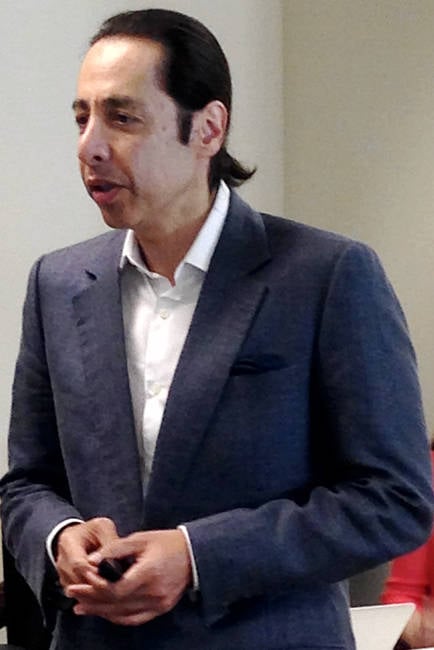 Data Direct Networks CEO and co-founder Alex Bouzari
DDN's EVP for marketing and product management, Molly Rector, said: "The new 'WolfCreek' platform will deliver enormous latency reduction from application to storage, NVM-e, all-flash options and performance exceeding any alternative on the market in both IOPS and throughput."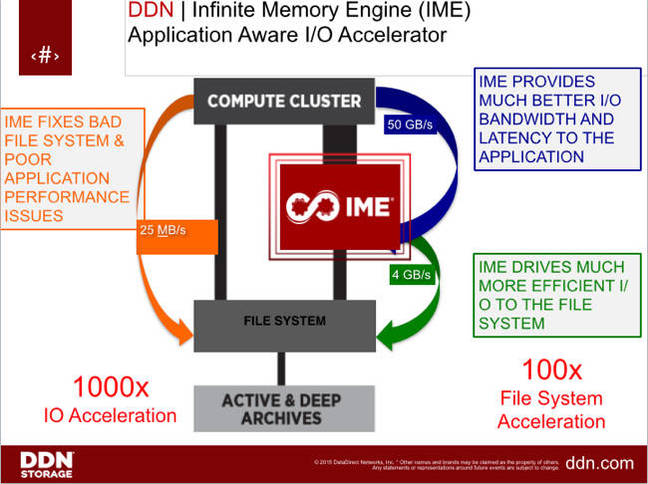 WolfCreek acceleration slide
Kaminario's K2 v4 Flash array is second with 1,239,898 IOPS.