DataDirect introduces its hyper-converged Wolf in Creek clothing
Pony-tailed CEO spills beans on his firm's rather racy system
---
IME a river
WolfCreek will attain this astonishing performance – if it does as DDN claims – by using its IME (Infinite Memory Engine) burst buffer technology. Mark Canepa, VP of worldwide presale, service and support, told us that WolfCreek can control the amount of CPU resource dedicated to IO processing.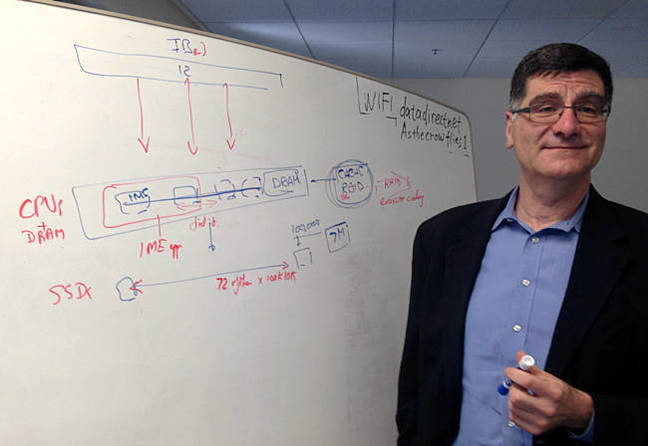 DDN's Mark Canepa explaining dialling up and down the CPUs used for IME work
IME is software and can be used in a cluster, using NAND and a parallel file system.
Previously we have noted that IME has:
Distributed NVRAM storage cache using patented algorithms to eliminate file-locking pressure
Cross‐network data protection
Fault-­avoiding, load-aware system optimises for speed
Full integration with popular HPC parallel file systems like Lustre and GPFS
Use of an NVRAM cache to simplify app enveloper IO work
If you can dial up the amount if CPU resource devoted to IO, then it's logical to assume this reduces the amount of CPU resource available for application work.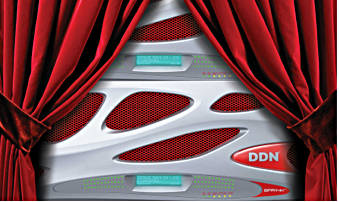 WolfCreek appliance bezel
We understand that IME can be deployed either as a burst buffer or as a storage cluster resource with a parallel file system based on non-volatile memory. The system will feature thin provisioning, inline deduplication, compression, snapshots and asynchronous replication.
WolfCreek will have up to 8TB of capacity and use dual-socket Haswell CPUs and DDR4 DRAM.
The Haswells can have up to 18 cores, meaning up to 36 in a dual-socket configuration. An upgrade to Broadwell architecture – a 14nm die-shrink of Haswell – is coming, we understand.
Interconnects will use both InfiniBand and 10/40GbitE. There are 72 x 2.5-inch storage media slots which can all be filled with SSDs running at full 12Gbit/s bandwidth, or 48 x NVMe devices running at full bandwidth with 4 x PCIe gen 3 lanes.
If we assume the use of 3.2TB NVMe flash cards, we have 153.6TB of raw capacity.
There will be several WolfCreek appliance configurations and not all will feature the IME. Ones without it will do up to 2 million 4K IOPS.
The appliance supports tiered storage, including disks. A rack of WolfCreek appliances will provide up to 6PB. We can envisage DDN arrays being used as back-end stores for these appliances. There will be automated, end-to-end tiering and a global namespace archive on tape (yes, tape) or out to cloud (WOS private cloud) – there will be no such namespace with the public cloud.
With WolfCreek software on COTS hardware, there won't be formal certification of partner boxes. They will have an overall DDN-level brand, though. Such systems will be be seen at the Intel Developer Forum.
Competition for WolfCreek will include HDS' HSP. DDN downplayed EMC DSSD competition, saying it's for structured data, whereas WolfCreek can handle unstructured data and is POSIX-compliant.
We expect WolfCreek to be launched in the third quarter of this year with general availability by the end of September. Let's hope it isn't modelled on the Australian movie*. ®
Bootnote
* Wolf Creek is an Australian horror movie released in 2005.