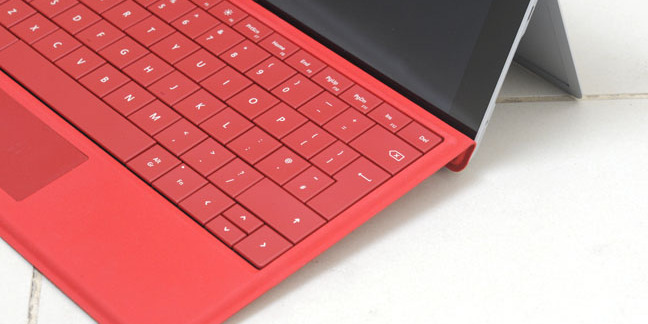 Microsoft's UK store is offering a £77,777.77 version of its Surface 3 tabletoid.
That's about US$121,966 or AU$158,520 for those beyond Blighty's sceptred shores. And for those who haven't shopped for a hybrid laptop/tablet lately, its more than 100 times the usual price for such a device.
What do you get for that hefty price? A bog standard Surface 3 with either 64GB or 128GB of storage, 10.8 inch screen, Windows 8.1, 4GB of RAM, WiFi, 4G, Intel's Atom X7, a one-year Office 365 subscription, and a three month subscription to Now TV.
Reader Charles pointed out the overpriced PC to us and solved the riddle of the massive price by letting us know that Microsoft knows this is a glitch in its web store. It's a persistent glitch: the £77,777.77 price was still online more than 15 hours after Charles let us know about the problem. In The Reg's the glitch seems to apply only to the LTE-equipped models. WiFi-only models are about £75,000 cheaper.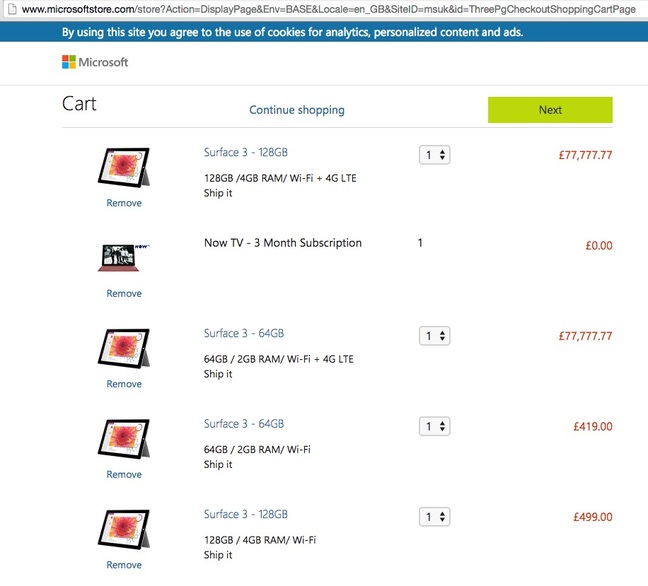 LTE is indeed a handy feature in a fondleslab. But perhaps not £75,000 handy!
Click here to embiggen
Microsoft really can't be selling many Surface 3s at that price, but there are rich and stupid people out there willing to pay overs for underwhelming tech: luxury mobe-maker Vertu just released its newest model last weekend, a modestly-specced machine that costs £10,700. For that price you get a mobe designed to match your Bentley limousine. ®
Inspired by the very best in automotive design. The new #SignatureTouch #Racing #Orange, exclusive to Vertu boutiques pic.twitter.com/G7ZjBQF4EP

— Vertu (@vertu) June 30, 2015
Sponsored: Webcast: Simplify data protection on AWS