Don't start reading the last rites for monolithic storage just yet
But other tech can simply do the job better, sorry
---
Where's the data going?
Data is moving away from monolithic arrays to alternatives, but which ones? There are several and the main directions of movement, apart from extremely fast response data and the slowest response data, are not clear yet.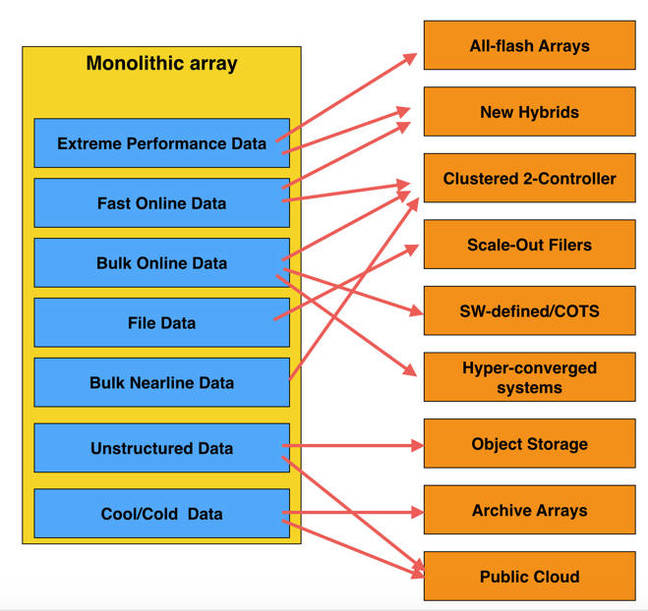 Some data migration paths away from the monoliths
Data with extreme performance needs is transferring to all-flash arrays. EMC admits that its XtremIO arrays cannibalise VMAX arrays in their storage of hot, high-access rate data.
We expect the same is happening with IBM's DS8000 and its FlashSystem all-flash arrays. Even when fitted with SSDs monolithic arrays cannot perform as fast, or as cost-effectively, because their internal SW code stacks were architected in the disk era.
Fitting SSDs into monolithic arrays is like having a carburetor per cylinder in an age of fuel-injection systems; there is just no way carburation can be as efficient as fuel-injection.
The coldest data, the slow response rate stuff, is moving to a mix of the public cloud and on-premises archive arrays. Moving up the data tiers bulk unstructured data is moving to Big Data Hadoop-style stores or to object storage. Hadoop systems will generally but not exclusively be used for Big Data analytics and object storage for non-analytics extreme capacity storage.
Often the data may end up on the same disk drives — 4-6TB 5,700-7,200rpm disks — but the drive cabinets' contents are organised and managed differently.