FBI updates Most Wanted cyber felons list, offers US$4.2m bounties
Zeus creator has $3m on his head, may be boating on the Black Sea
The mastermind of the Zeus trojan; a car scamming screwball; an identity thief; a malvertiser, and a keylogger monger: nail these five net crims to the wall and the FBI will pay you US$4.2 million.
The agency has updated its 'Cyber Most Wanted'™ with the new hits who join the existing famous five hackers employed in the Chinese military which the US accuses of conducting espionage against its interests.
Top of the list is alleged Zeus trojan creator Evgeniy Mikhailovich Bogachev, known online as 'lucky12345' and 'slavik', whose capture will fetch $US3 million.
The US has chased the Russian since 2009. Bounty hunters will need to pack their wet weather gear as the hacker is known to enjoy boating on the Black Sea.
Nicolae Popescu has a bounty of $US1 million for his role in dumb dupes where he robbed victims of cash using fake car sale listings. The Romanian-speaker could be anywhere in Europe.
In third spot is Alexsey Belan, at a mere $100,000 and wanted for raiding three unnamed US organisations and attempting to sell off the millions of usernames and passwords to black market buyers.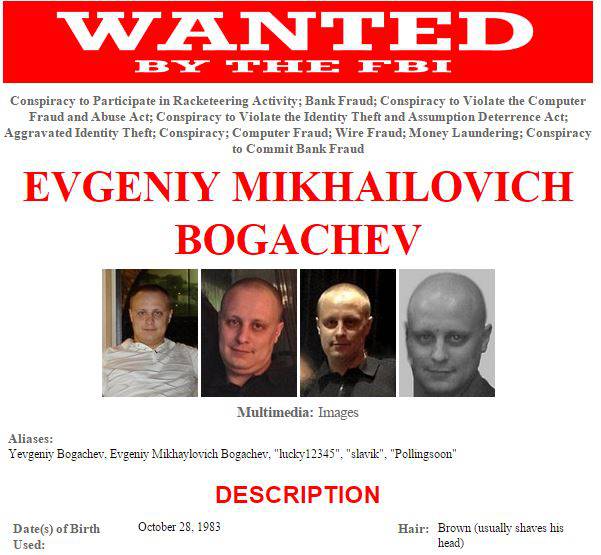 Bug bounty hunters should start with pushing through the rioting crowds in Athens to find this Russian who may have picked up a bottle of red or blonde hair dye and a pair of glasses on his way out of the Motherland. He could also be in Latvia, the Maldives, or Thailand.
Bagging Peteris Sahurovs in fourth place will offer bounty hunters a free holiday to Latvia or Ukraine if they claim the $50,000 reward.
The fake antivirus slinger managed to trick money-hunger ad-men to run his malvertising scam which exploited browsers to foist his malware. Victims would need to pay $50 to shut the scareware up.
Love-rat Carlos Enrique Perez-Melara will also bag bounty hunters $US50,000.
Melara is accused of spreading a keylogger to help spurned spouses 'catch a cheating lover'. The El Salvador resident designed the keylogger to masquerade as an e-card while living in San Diego.
He faces a mere 175 years in prison while scores of seemingly legitimate 'protect-your-kids' keyloggers exist for purchase. ®