Microsoft has shared more details about how it plans to roll out Windows 10 beginning later this month.
We already knew the OS will start shipping to members of the Windows Insider program on July 29. On Thursday, however, Microsoft OS boss Terry Myerson explained in a blog post that not everyone should expect to receive their updates on that date.
"From there, we will start notifying reserved systems in waves, slowly scaling up after July 29th," Myerson wrote. "Each day of the roll-out, we will listen, learn and update the experience for all Windows 10 users."
What's more, he said, just because you have reserved your copy of Windows 10 using Redmond's handy Task Bar advertisement doesn't mean you're necessarily ready to upgrade right away. In some cases, a PC might need additional support from another company.
"If your system is not ready yet for your upgrade to Windows 10, we will provide more details during the upgrade experience," Myerson said. "In some cases, we will include contact information so you can follow up directly with an application provider or device manufacturer to learn more."
He added that in most cases you should be able to upgrade anyway, but you might need to download some new software from the Windows Store afterward.
For business customers, Windows 10 Pro will also be available for download on July 29, but Windows 10 Enterprise and Windows 10 Education won't be available through Microsoft's Volume Licensing Service Center until August 1.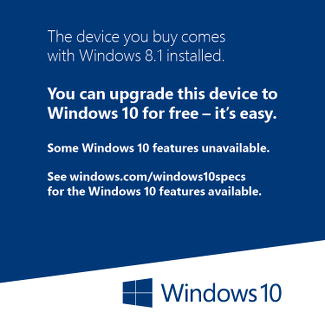 If you see one of these, that new PC is good to go
It's not clear whether brand-new computers with Windows 10 preinstalled will be available in stores when the online roll-out begins; probably not. But Myerson said Microsoft plans to get copies of the OS into its OEM partners' hands ahead of the public launch so they can begin certifying it against existing models.
PCs, laptops, and tablets that have been pre-certified in this way will carry a sticker saying they come with Windows 8.1 installed but can be upgraded to Windows 10 for free.
Curiously, however, the sticker also explains that some Windows 10 features will be unavailable if you do upgrade. Presumably this refers to things like Windows Hello that require support from additional hardware that wasn't built into Windows 8.x devices, but the URL explaining which features will be available is not yet active.
And not every feature planned for Windows 10 will be available on the day it ships, either. Myerson specifically mentioned Enterprise Data Protection as one feature for business customers that won't be introduced until later in the year. A full chart explaining the differences between the various Windows 10 versions and their features is available here. ®
Similar topics