This article is more than 1 year old
Windows 7 and 8.1 market share surge, XP falls behind OS X
It looks like the world wants freebie Windows 10 upgrades
Here we are again in the early days of a month, so off we go to Netmarketshare and StatCounter to see what the world's computers are running.
Both sites report that June saw a nice spike in Windows 7 use. StatCounter has it up 0.6 per cent to 53.71 per cent of the market, while Netmarketshare reckons it surged from 57.76 per cent of desktops to 60.98 per cent.
Why the jump? Microsoft's signalled that Windows 7 users will be among those who, under some circumstances, get a free Windows 10 upgrade. Adopting Windows 7 in June was therefore a good idea. Windows 8.1 also registered a bump in market share, so perhaps the same motive drove that increase in adoption.
Both of the services we track also noted sharp-ish dips for Windows XP: might the rush to abandon it finally be accelerating now that the freebie Windows 10 is near? Whatever the cause of XP's accelerating demise, StatCounter now has Microsoft's big hit from 2001 behind Apple's OS X in terms of desktop market share. Apple can now claim 10.17 per cent of the desktop OS market, the outfit says, although Netmarketshare has all versions of Apple's OS at just 6.73 per cent of the market.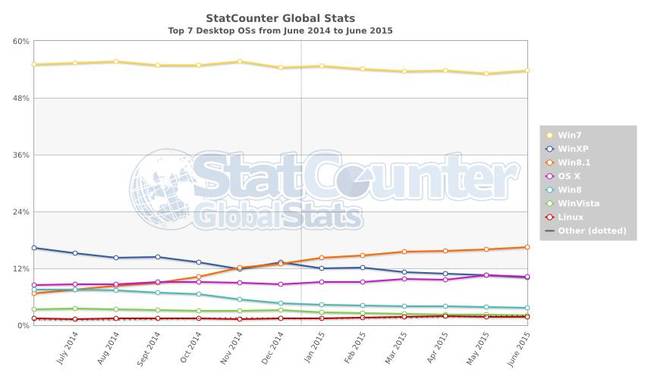 Statcounter's desktop OS market share data, June 2014-June 2015
Click here to embiggen
As we note each time we consider these numbers, they read better after seasoning with plenty of NaCl because they're gathered using an analysis of Web traffic rather than actual machine counts.

Netmarketshare desktop OS market share data June 2014-June 2015
Click here to embiggen
Next month's numbers should be rather more interesting, because Windows 10 lands on July 29th and will presumably be adopted by a great many users not long afterwards. What share will Redmond's saviour have by August 1st? Stay tuned: we'll bring you the numbers. ®