Update Microsoft's Azure service is experiencing TITSUP - Total Inability To Support Usual Performance - for some Australian users.
The company's status page says "Starting at approximately 01:03 UTC [11:03 AM, Sydney] on 3 July, 2015 customers with Azure services hosted in Australia East may experience inability to connect to their service resources. Engineers continue to deploy mitigation steps and we are making progress towards service recovery."
The outage appears to be ongoing: at the time of writing, 14:30 Sydney time, the status page still produces an error.
Microsoft Australia tells us "Customers in Australia East may be experiencing service interruptions. Our teams are working hard to restore service. Visit the Microsoft Azure Service Health Dashboard for status updates."
Which is rather unhelpful: we don't know how many people are affected or how long it might take to get them back online. If Microsoft offers more details, so will we. ®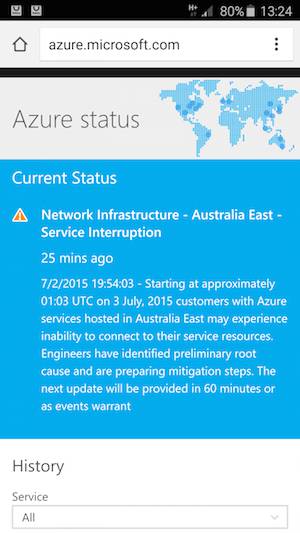 UPDATE: Microsoft Australia contacted The Reg at 18:00 local time on Friday evening with the following statement:
"Customers in Australia East may have experienced service interruptions and services are now fully restored. Visit the Microsoft Azure Service Health Dashboard for more information."
We'll press for more information on the outage next week.