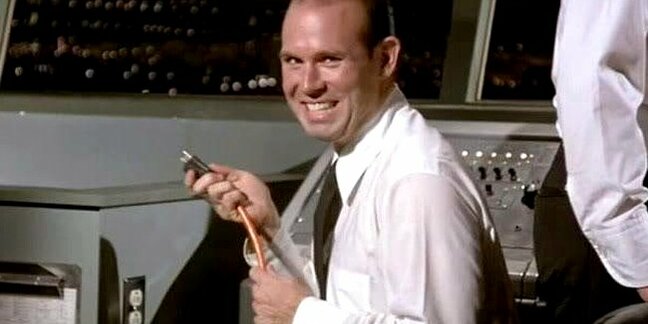 Updated MVNO Vectone Mobile's service has been down for days, with the company offering no indication as to when it might resume, or any public statement acknowledging the depth of the blunder.
To the fury of customers who believe they have received inadequate support and information, the MVNO issued a "sincere" apology to those subscribers "who may have experienced intermittent signal problems during the past couple of days".
A Vectone customer who contacted The Register denied they had received intermittent service, but claimed instead that "Vectone's Austrian service has been down the entire week".
"We have been upgrading our system to ensure a better service for the future," the MVNO claimed. "Therefore, we are really sorry for those customers who had difficulties using our network during this time." It added:
All customers experiencing network problems are advised to re-configure their network settings. Even if you have already tried this, we recommend doing this one more time.
El Reg's contact complained that the customer support they had received was "staggeringly poor". Writing to Vectone earlier this week, our source explained that they've had no phone access at all since 29 June, and that:
I've done all the sensible things (rebooted, removed SIM, reset settings etc) but this doesn't appear to be a problem at my end. I am again trying to juggle missing phone service with sick children, this is incredibly awkward. Can anything be done about this? Is this the result of "Data centre upgrades" or were you referring to the broken web portal only?
An initial reply to his complaint featured a packaged statement about how much the company appreciated its customers feedback, followed by a representative's explanation:
I am sorry that you have had no service today; unfortunately this is due to data centre upgrades which are being performed across the company.
One particular tweet on Monday sparked anger among its other service-starved customers:
At #Vectone, we believe, communication should not be a luxury. Do you agree with us?

— Vectone Mobile UK (@VectoneMobileUK) June 29, 2015
@VectoneMobileUK worst network ever . Even EE is better

— Natasha. (@fairyworld_x) July 2, 2015
@VectoneMobileUK well there is no communication, now. Dead as in dead monkey - not even a fucking customer service saying what's wrong!

— Birmingham Security (@bham_security) July 2, 2015
@VectoneMobileUK Can somebody get back to me? Are you still in business? customer service is dead, my phone numbers are dead? Anybody!

— UKITJobs (@UKIT_Jobs) July 2, 2015
The Register did not receive an answer when it rang the company, and, at time of publication, no reply had been received regarding our other inquiries. ®
Update
The UK's communications watchdog has since responded to our request for comment. Late on Friday, we were told:
Ofcom would encourage any Vectone customers that have experienced problems to follow the instructions on Vectone's website.

Customers wishing to make a complaint about their communications service should first contact their provider's customer service department with the details of their complaint.
A spokeswoman at Ofcom added that Vectone had since posted an apology and advised customers to fiddle with their network settings. Here's a screen grab: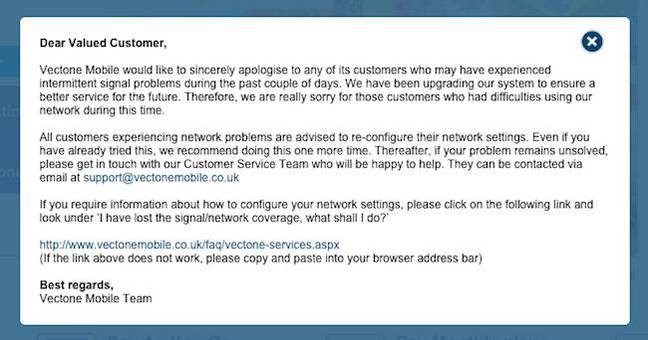 Sponsored: Webcast: Ransomware has gone nuclear