We're obliged to readers who answered our recent call for post-pub nosh neckfiller suggestions, and rest assured we now have a extensive menu planned for the coming months, based on your input.
One comment which caught our eye came from "dan1980", who pitched the "cheese and tomato sandwich", daringly proposing: "Add ham or left-over chicken if you want."
Mr 1980 said of our previous neckfillers that "despite being a competent (home) cook, I simply can't see myself managing much of what is proposed in these articles".
He concluded:
So, I think the fairest assessment must follow from meals cooked "post-pub". Mixing and kneading and proving and grating and straining and shaping and frying and, well, it all seems rather a lot for the time of night (morning) one might be whipping these up and certainly for the state one would be in.

Practicality must be recognised and some of these recipes seem rather ... ambitious.
It's a fair point that some of our wobbly dining delicacies do require a bit of dedication, but if we restricted ourselves solely to grub suitable for preparation by the truly incapacitated, we'd be done after a swift bacon sarnie, or indeed its cheese and tomato equivalent.
Nonetheless, we're always happy to present stuff for the temporarily culinarily challenged, and co-incidentally this missive from Chris Vella dropped into the inbox last week:
I do not see on your list uitsmeijters – pronounced out-smiters. The Dutch aren't know for any notable cuisine but my theory is that there is a good reason for this; they have made one good dish and stopped in full knowledge that it can never be outdone. You will see that this is actually post-pub nosh by design.
Uitsmeijter is described here as "an open-faced sandwich with ham, cheese and fried eggs". Regarding the name, uitsmeijter literally means "out-thrower", better expressed in English as "bouncer", as in nightclub bouncer.
Since the dish is "often the last thing served at parties or in bars before closing time", you can see how it got its title.
So, here's our collection of ingredients for uitsmeijter ...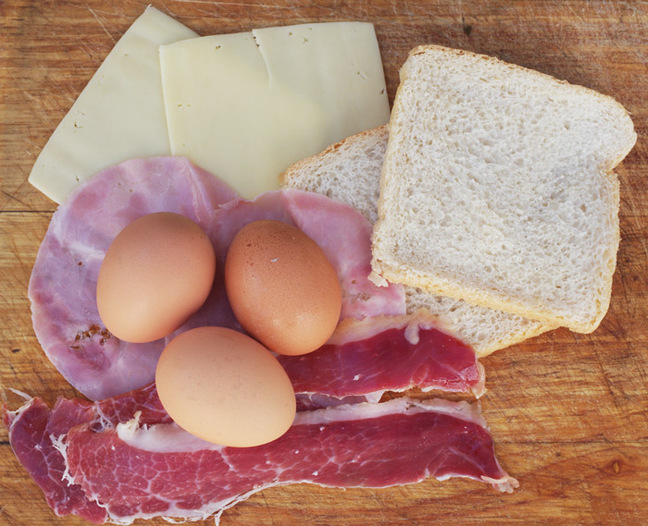 ... comprising:
2 slices of Gouda cheese
2 slices of sliced white bread
2 slices of ham
3 eggs
Serrano ham
You'll also need some butter, plus salt and pepper. Have a tomato on standby, too, "especially if a lady is over, they like veg, colours and stuff", as Chris helpfully explained.
But hold on a minute, we hear you cry, what's this serrano ham all about? Well, uitsmeijter sometimes features bacon, but we decided to throw some local sliced pig product into the mix. Actually, what we have here is jamón ibérico – a little bit of meaty luxury.
Apart from that, we kept it basic. Chris likes to spice up his own uitsmeijter with kremser senf (an Austrian mustard concoction), a couple of pinches of chilli powder and some ground Kampot pepper. HP Sauce – although now shamefully produced in the Netherlands – doesn't appear on any uitsmeijter recipe we've seen.
Onwards to the kitchen, then, and this decidedly slimline step-by-step: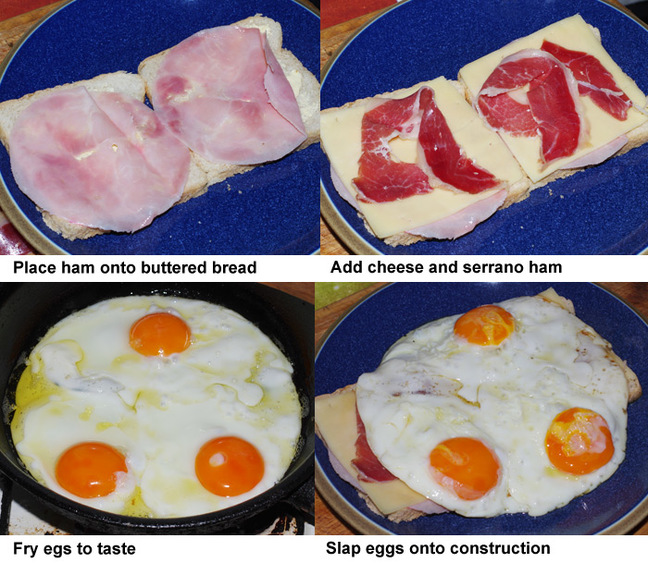 Assuming you can handle a frying pan without doing yourself serious damage, that's all there is to it. You might like to toast the bread, too, as do some Dutch gourmets, but that would appear to be a risky extra operation for legless chefs.
Here's our finished product, complete with some added jamón ibérico and the aforementioned tomato: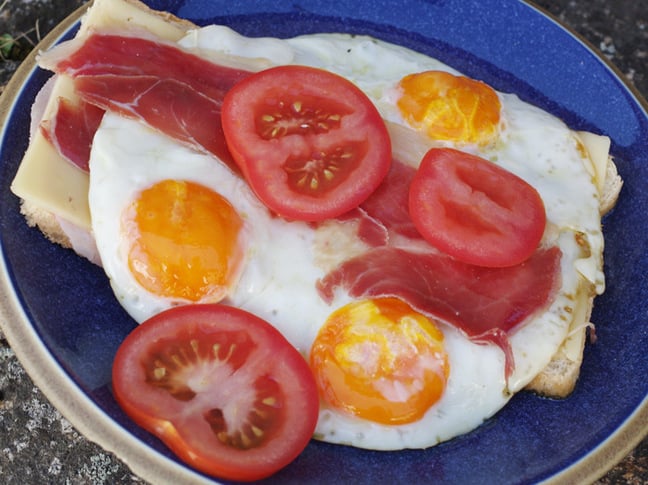 Hearty nosh indeed. Just why uitsmeijter commonly features three eggs we know not, but a trawl of the interwebs showed this to be standard practice. In reality, that's probably an egg too far, at least according to my stomach.
Still, it hits the spot, especially as a morning-after trough if you fancy a change of scenery from traditional bacon-based remedies.
Chris's claim that the Dutch produced this one good dish and then deemed it unnecessary to push the culinary envelope further isn't quite true. Long-term readers will recall kapsalon – an amazing melange of chips, kebab meat, garlic sauce and salad. ®
Our previous post-pub nosh neckfillers ...