This article is more than 1 year old
Kobo Glo HD vs Amazon Kindle Paperwhite: Which one's best?
Our Vulture locks the two in a cage together
A tale of two ecosystems
To a large degree, many people will choose their reader based on the ecosystem; that is, the services and range of products available. Or, indeed, they may choose to avoid one as a matter of principle. While many Reg readers may be familiar with the differences, it's worth taking a look at the respective offerings from Amazon and Kobo.
First and foremost, Amazon is the bigger of the two. It's been in the game longer and has considerable clout with publishers. One consequence of that is that some books will be available sooner on a Kindle, and they'll sometimes be cheaper, too. How much will vary, and of course depends on the books.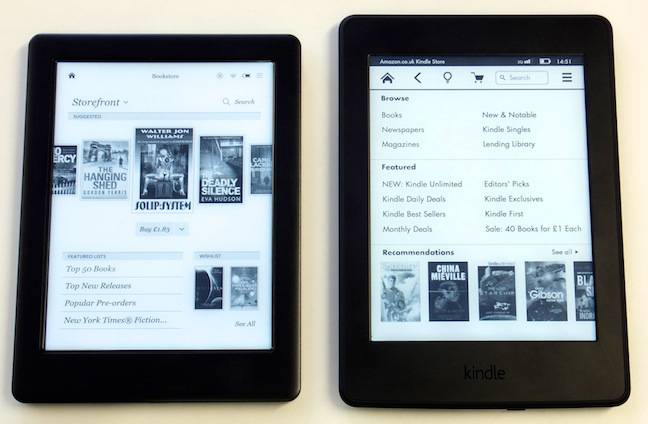 Both devices let you buy and download books via Wi-Fi
I did a quick comparison with some recent purchases. Gary Gibson's Marauder £5.63 on Kobo, £4.19 on Kindle; Emily St John Mandel's Station Eleven £4.79 Kobo, £3.59 Kindle; John Scalzi's Lock In £7.99 Kobo, £7.49 Kindle; Stuart MacLean's The Missing and the Dead £10.99 Kobo, £7.60 Kindle. A Camilla Lackberg short available from Kobo wasn't available on Kindle to compare.
Clearly, then, you will save some money on books by choosing Amazon. It's also a platform that offers other useful services. For example, it's a very popular way of self publishing, so you will often be able to find material from new writers exclusively on Kindle. There's also Kindle Unlimited, which costs £7.99 and gives you unlimited access to 700,000 titles. Kobo doesn't have anything like that.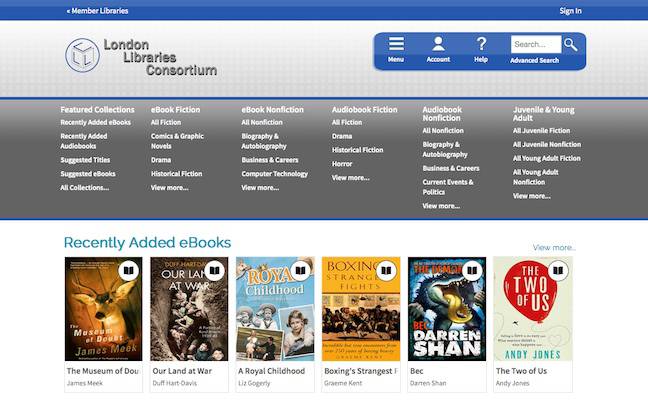 Amazon has Kindle Unlimited, but Kobo can give you access to your local library
Nor can the Kobo reader access the magazines available through the Kobo store, while the Kindle offers not just magazines but also newspapers. That said, while you can pay £0.99 for a Kindle edition of The Guardian or £9.99 a month, that seems a lot when you get better formatting, colour and decent photos in the Android or Apple apps for £0.69 per month.
Your Kindle also gets an email address so that documents can be sent to it in a variety of formats, and it's even possible to have PDFs converted on the fly to the Kindle's own format. Set against all that, if you want to borrow from public libraries in the UK, most of them use Overdrive's system for electronic loans, which requires an EPUB-capable reader, like the Kobo.
The Kobo also supports Adobe Digital Editions, which means that you can authorise it to read books bought from any source that sells titles using that system.