This article is more than 1 year old
Kobo Glo HD vs Amazon Kindle Paperwhite: Which one's best?
Our Vulture locks the two in a cage together
The PC connection
While a PC isn't required to work with either of these readers, they can both be connected. Plug them in via USB and they'll appear as a disk drive. You can drag and drop files such as PDFs, and then read them on device, pinching and zooming. Frankly, I'd generally advise against it because e-Ink isn't really responsive enough and PDF support on both devices is probably best labelled "tolerable". The same can be said for the built-in web browsers, too.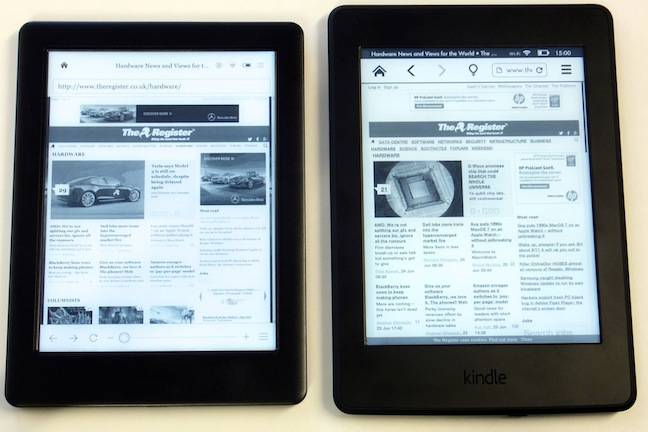 Both devices include a web browser. For emergency use only
It's possible to manage books with other tools, such as Calibre. Certainly I had no problems with the Kindle in that regard, which worked happily with my Snow Leopard Mac. The Kobo reader needs an updated version of Calibre, and though it was detected on Windows 7 with Calibre 2.31, I didn't have any luck managing the device; hopefully that will be resolved soon. Both devices will allow you to organise titles into collections using the touchscreen, however – so the main reason for using Calibre will be format conversion and managing large libraries.
In terms of format support, the Kindle is, as you would expect, largely reliant on Amazon's ecosystem, though it will also handle text, HTML and RTF, along with the proprietary AZW3 plus PRC and MOBI files. Kobo supports EPUB and EPUB3, along with text, HTML, RTF and MOBI, as well as CBZ and CBR comic formats.
You can also link your Kobo to a Pocket account as well, which is a useful alternative to the way in which documents can be emailed to the Kindle.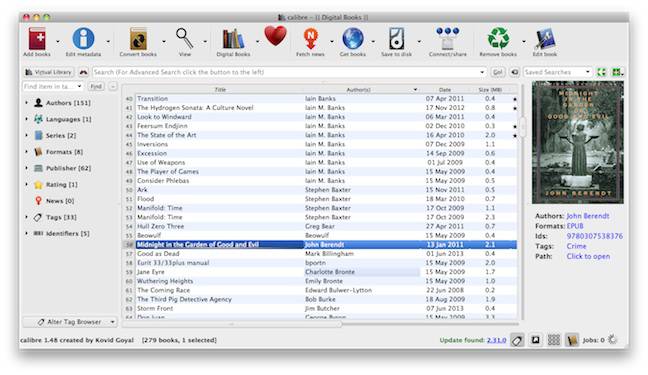 You can drag and drop files to both via USB, but we had some issues with Calibre and the Kobo
The Reg Verdict
If you want to pay an annual fee to Amazon for free books, take advantage of its lower prices, or subscribe to a newspaper, then the Kindle is the choice for you. The same is true if you want to give one to someone who doesn't even have an internet connection – with the 3G edition, they'll be able to get all the books they want.
And yet, when it comes to usability, I find the Kobo software has the edge. The extra control over the display, the customising of the touch zones and the ease of controlling the backlight win out for me – along with the ability to handle all those ePub books I bought for my old Sony Reader.
While the Kindle just edges ahead on screen refreshes, thanks to the Regal updating system, for me that's not quite enough.
Ultimately, though, whichever of these readers you choose, you'll probably be happy – unless you really like proper buttons to turn the page. ®

Kobo Glo HD vs Amazon Kindle Paperwhite: Which one's best?
169 mm x 117 mm x 9.1 mm, 205g
Price:
£110 (WiFi only), £170 (WiFi + 3G) RRP

Kobo Glo HD vs Amazon Kindle Paperwhite: Which one's best?
157 x 115 x 9.2mm, 108g