This article is more than 1 year old
EMC splashed a BILLION dollars buying just one flashy upstart
Legal eagle soared high when the Federation dug deep
Top mergers and acquisitions lawyer Michael Ringler helped EMC splash a cool billion dollars buying a rack-scale flash array upstart, The Register can reveal.
It was in May 2014 that EMC swooped down and bought the stealthy DSSD rack-scale flash array startup.
DSSD was founded around 2010 by two top Sun engineers involved with ZFS, Jeff Bonwick and Bill Moore. Undisclosed funding came from came from Andy Bechtolsheim, EMC and SAP, and Bechtolsheim was the firm's chairman.
DSSD's technology is being used to develop an all-flash array that sits above XtremIO in EMC's product arsenal. It will feature, we understand, an in-memory flash architecture, its controller software stack becoming part of the host server's memory, and an NVMe fabric interconnecting the 5U DSSD flash building block to servers.
Moore boasted that it will have "face-melting performance" and we expect a product announcement later this year.
No one has publicly revealed what EMC paid for DSSD … until El Reg saw the vital snippet on Ringler's potted bio at the Wilson Sonsini Goodrich and Rosati legal firm's website.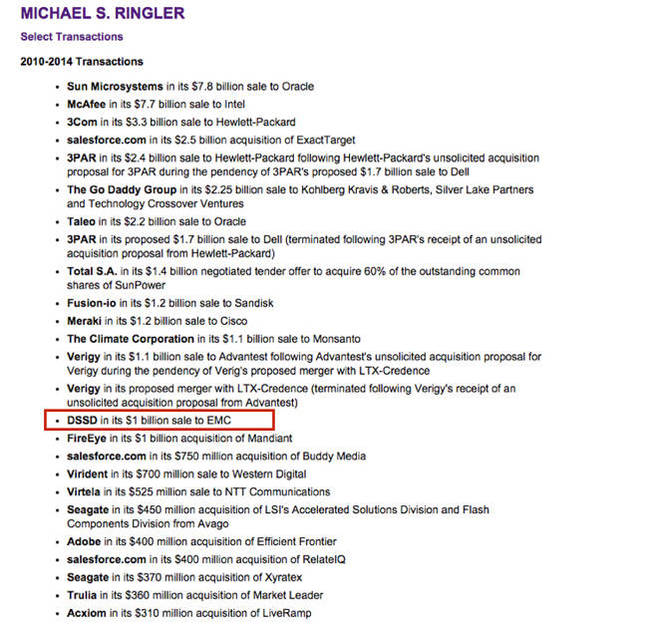 Click image to go to the WSGR web page.
Now, in an ordinary lawyer's web-page bio pointed out to us by Wikibon's David Floyer, we see attorney Mike Ringler saying he was involved in this billion-dollar transaction, along with many others. He appears to be the go-to, big league, M & A guy.
A billion dollars seems an extraordinary amount to pay for a startup. We'd imagine there was a bidding war to send the amount that high. ®