This article is more than 1 year old
Kingston offers up its fastest SATA SSD: HyperX Savage 240GB
Toughing it out against brutal competition
Migration matters
The default uncompressed test produces read/write scores of 28.40MB/s and 77.42MB/s respectively. However, switching to the compressed data test, the reads get a real boost to 95.03MB/s while writes hit 83.43MB/s. Either way it's beaten by the 850 Pro.

CrystalDiskMark results for default (left) and compressible data (right)
One of the major things that puts off people moving to a SSD for the first time is how they migrate all their data off the drive they are replacing. A few companies offer some sort of cloning software included with their drives to accomplish this.

ATTO results (left) and AS SSD (right) – click for a larger image
With the Savage, Kingston has gone the extra yard and supplied a whole update kit with it, although if you don't need this the drive is available as is, and you save twenty quid in the process.
The kit provides: an Acronis True Image HD key, one of the best drive clone tools around; a 7mm to 9.5mm spacer to save it rattling around if you put it in a notebook with a larger slot; a 2.5in to 3.5in desktop adapter; a USB 3.0 to SATA external hard drive case; and to round things off there's even a micro screwdriver in there as well.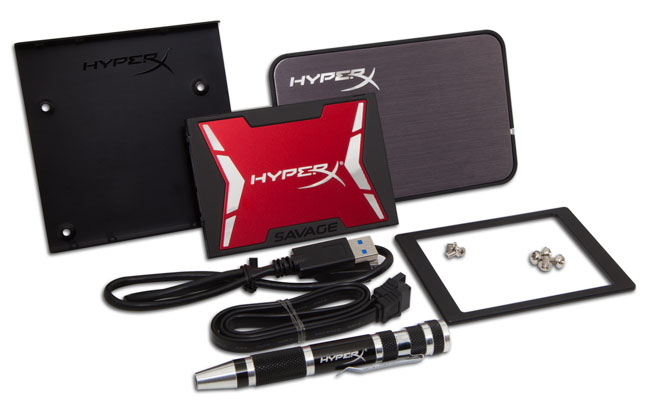 Available with a DIY data migration kit if you need it
The Reg Verdict
Kingston's latest addition to the HyperX range is a solid performer with very good endurance and it's pretty competitively priced to battle in the 240/256GB performance drive segment, although it has stiff competition from the likes of Crucial and Samsung.
If you are looking to upgrade to an SSD for the first time then splashing out on the desktop kit is a pretty good option, as it's a really useful bundle which should take out any pain of migrating from one to another.
The three-year warranty seems a bit mean in these days of five and ten year ones for SSD, but then again in three years' time, you'll probably be looking at buying into something that's four times the size for the same price. ®

Kingston offers up its fastest SATA SSD: HyperX Savage 240GB
Kingston's fastest SATA-based drive to date featuring 19nm Toggle MLC NAND, Phison PS3110-S10 controller, 306TB TBW endurance and a 3-year warranty
Price:
120GB (£60), 240GB (£82), 240GB + kit (£105), 480GB (£150), 960GB (£420) RRP