This article is more than 1 year old
Chinese takeaway, hold the Google: Xiaomi Mi4 LTE Android
It's a Googlephone, Jim, but not as we know it
Review When I reviewed the mid-range Samsung Galaxy A5, I reckoned that Samsung didn't have much to fear from Chinese OEMs who will sell you more phone for less money.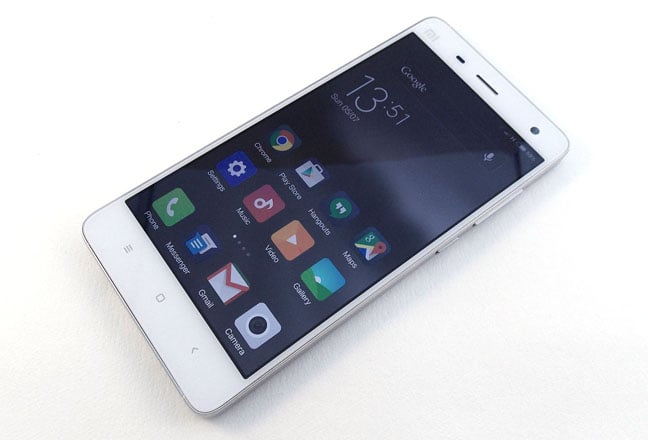 Xiaomi Mi4
Are the masses really going to be bothered to track down one of these ever so slightly grey Chinese imports, pay upfront and hope Google Translate can handle any warranty issues?
OK, so many of you thought I was talking rubbish, particularly when we've the likes of Huawei making inroads as a handset brand in its own right. Still, the brand uppermost in my mind at the time was Xiaomi, the rapidly expanding Chinese mobe maker that's being called the Chinese Apple (I'm assuming that is meant as a compliment) and that poached Mr Android, Hugo Barra, from Google back in 2013 to prove the size of its cojones.
To see if buying an imported Chinese phone is really such a good idea I've borrowed a Xiaomi Mi4 (the LTE version launched a few months ago) from the folks at MobiCity. They will sell you one for £240, or £60 less than a Galaxy A5, which is currently available from Samsung for £299 – £50 less than the official RRP.

Volume and power buttons feel rather high end
Get the Mi4 out of it's impressive box and your reaction is likely to be "Good deal!" It looks and feels like a cross between a Samsung A5 and an Apple iPhone 5S. It's very well made, has a stainless steel frame and a wholly flat fascia that seamlessly butts up to said frame. It also has very well engineered power and volume buttons.
Wannabe styling to one side, Xiaomi's designers are not without skill. The Mi4 boasts a higher screen-to-fascia ratio than either the iPhone 6 or the Galaxy A5: 73 per cent versus 67 per cent and 70 per cent respectively, according to my back-of-an-envelope calculations.
IR transmitter and 3.5mm audio at top
The fixed plastic back (the battery can't be removed and there's no microSD expansion so you have to make do with 16GB) slightly lets the side down but it's solid and nicely curved and feels good in the hand. The 3.5mm audio jack is sensibly placed at the top, ditto the microUSB 2.0 Type-A (that's the square sort, so be careful you put your cable in the right way up) at the bottom next to the solitary but competent speaker.