This article is more than 1 year old
Chinese takeaway, hold the Google: Xiaomi Mi4 LTE Android
It's a Googlephone, Jim, but not as we know it
Gone Google
At 149g the Mi4 isn't the lightest device of its size around; nor, at 8.9mm, is it the thinnest – but then Xiaomi has stuffed in a whopping 3,080mAh battery which should get you through two full days of pretty intense use without breaking into a sweat.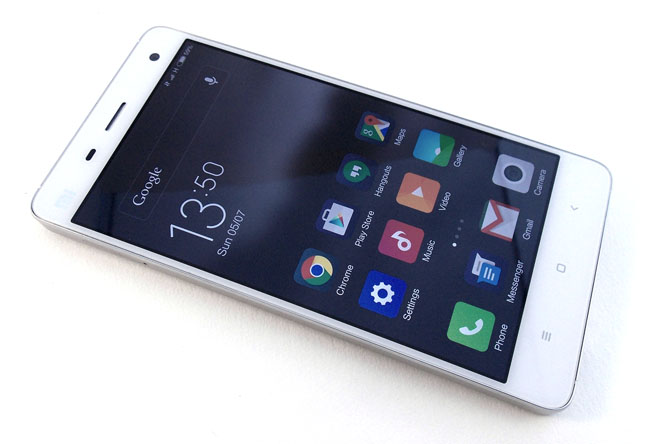 Hard to fault the full HD display
The 5-inch 1920 x 1080 IPS display is difficult to criticise. In fact, it's up there with the best mobile phone screens I've ever squinted at. As well as being as sharp as a tack (the pixel density is 441dpi) contrast is excellent and it works well in direct sunlight.
If I had to be picky I'd say colours are a little cool, but you can adjust that via a settings menu if you prefer a more saturated, pseudo-AMOLED look. The panel itself is made from Corning's Concore glass. That's an OGS, or One Glass Solution, affair in which the protective layer and touchscreen are one component.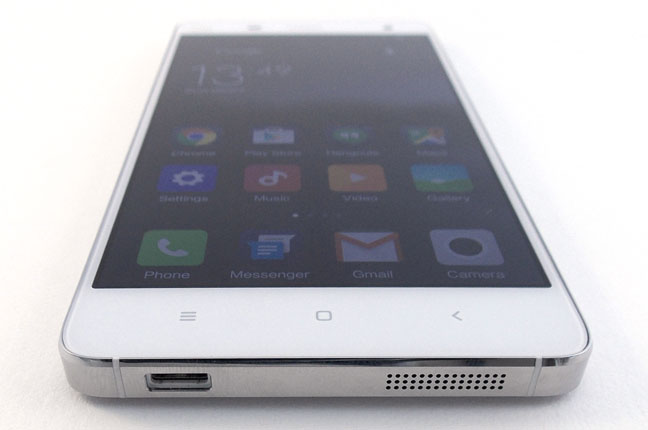 Solo speaker and square micro USB port at the bottom
The advantage of OGS is that the screen looks closer to the top which gives the impression that videos and pictures are showing on the actual surface. And it improves contrast, thanks to there being no air gaps. The disadvantage is that if you crack your screen the entire panel needs to be replaced and not just the protective glass. Getting a broken Mi4 fixed in Blighty is going to be a challenge.
The Mi4 runs Android 4.4.4 but overlaid with Xiaomi's own and oft-updated MIUI interface. MIUI v6.6.2 is all very iOS-like, right down to the absence of an app tray. It's also seriously lacking in Google. Out of the box only the Google Play Store app was present.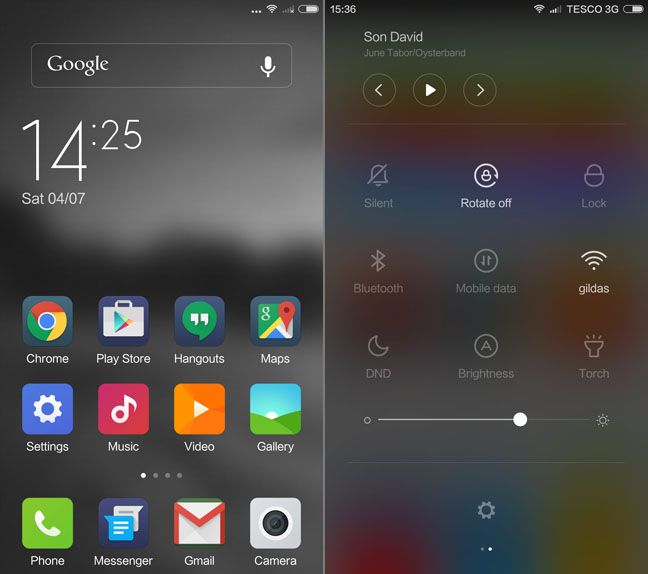 MIUI 6.6.1, no apps tray in sight (left) - very iOS. MIUI take on notifications pull-down (right)
A bigger problem was the absence of Google's Android account manager, so the Google apps I downloaded didn't work. I couldn't even sign into the Gmail app. At this point I started to experience a sinking feeling.
A quick Google-search later and I tracked down a Google services installer APK which loaded the account manager and Google Services Framework plus a few other odds and sods. Once I'd done that, removed all the previously-installed Google apps, rebooted my Mi4 and then installed all the Google apps I wanted from the Store, I was in business. Everything was now working as Google intended.