This article is more than 1 year old
Chinese takeaway, hold the Google: Xiaomi Mi4 LTE Android
It's a Googlephone, Jim, but not as we know it
Sony snapper
Xiaomi's take on the Android UI has other plus points too. I like what it's done to the notification bar pull-down and there is a handy "one-handed" mode that shrinks the display into a corner. Not vital on a 5-incher, but handy if you have small hands.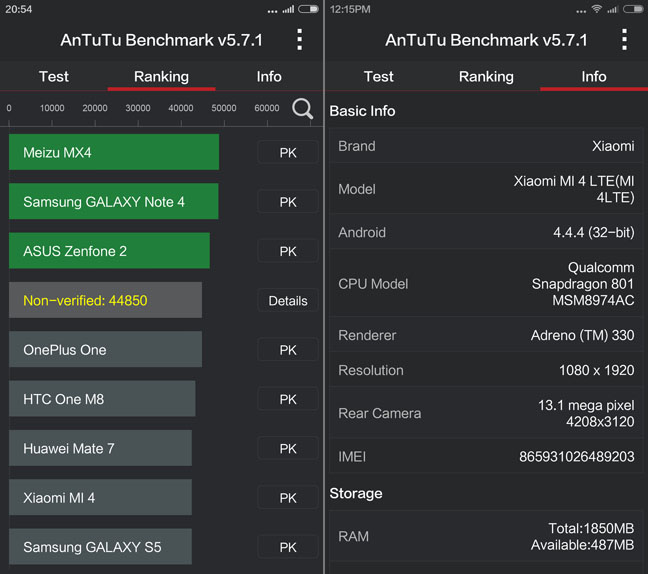 AnTuTu ranking in Performance mode (left) and a decent spec for £240
No matter how you set your UI up the Mi4 will barrel along. That's thanks to a Qualcomm MSM8974AC Snapdragon 801 SoC packing a quad-core 2.5 GHz Krait 400 chip and Adreno 330 GPU. The spec sheet says the Mi4 has 3GB of RAM whereas my handset showed 2GB. Whatever. An AnTuTu score of 44,850 (in Performance mode; in Balanced the result was 35,800) demonstrates that the Mi4 is a genuinely brisk little pup.
Granted, the 801 may not be the latest or greatest from Qualcomm but at least it doesn't get so hot it can toast your nuts.
There's nothing to worry about on the camera front either. With a 13.1MP f1.8 rear shooter and 8MP f1.8 80 degree view, wide-angle webcam the Mi4 takes a damn good picture whichever way you point it. Both cameras use Sony Exmor components after Sony seemingly decided that it can make more money selling mobile cameras to world + dog than it can by selling smartphones.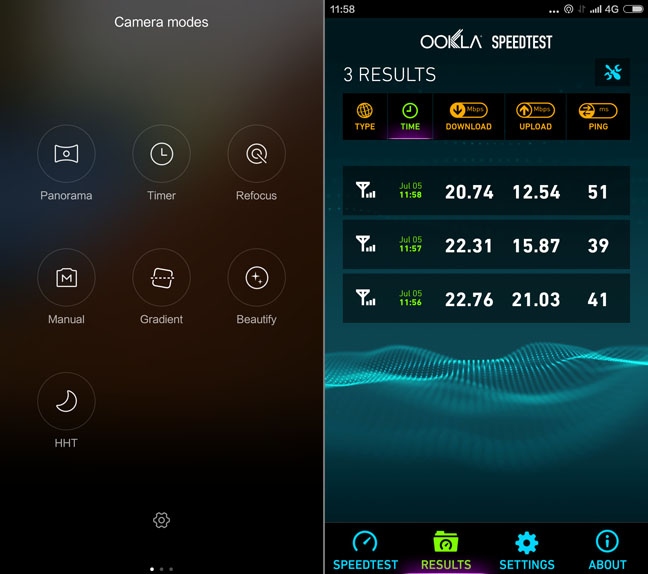 Plenty of trick camera modes on offer (left) and works with 4G networks, but only 1800MHz (right)
Not only are the cameras competent (shooting 4K video is no problem) but they are fast and have some trick features like a "shoot-now-focus-later" setting called Refocus.
Despite having the letters LTE on the back, the handsets MobiCity are selling are advertised as 3G. That is because Mi4 only supports bands 1, 3 and 41. That means only the 1800MHz band is of any use to those of us living in the UK. So that's Three and EE. Using my own EE SIM the Mi4 kept reliably strong 4G reception.
The only other bump in the connectivity road is the lack of NFC. On the plus side, you do get dual-band Wi-Fi, an infrared transmitter, Bluetooth 4.0 and a GPS receiver that can also work out where the hell it is using Russia's GLONASS and China's BeiDou satellites.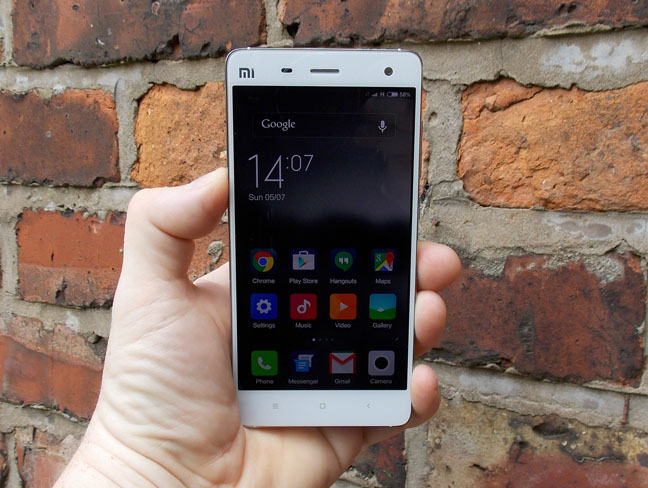 If you're up for a challenge, Xaomi's Mi4 works out as a very respectable handset for the price
The Reg Verdict
There's no doubt that the Mi4 is a lot of phone for the money. The display is excellent, battery life impressive, the cameras both capable. It's a well made and handsome device too notwithstanding the slavish copying of Apple's and Samsung's design language. The only technical downsides are the lack of an NFC chip, limited 4G/LTE frequency support and the absence of a microSD card slot.
The highly Chinese user interface is an issue but one that is easily fixed. The biggest problem is the absence of Google's services. It's something simple enough to fix but it still makes the Mi4 more of a palaver to set up and get working than a handset optimised for UK use. You pays yer money… ®
Thanks to MobiCity for the loan of the Xiaomi Mi4.

Chinese takeaway, hold the Google: Xiaomi Mi4 LTE Android
Android handset with full HD 5-inch display, Qualcomm MSM8974AC Snapdragon 801 2.5GHz quad-core CPU, 16GB internal storage and 4G