This article is more than 1 year old
HTC in crisis: How did it get to this point? How did it get this bad?
'We did everything the bloggers told us to!'
Analysis HTC's financial figures for its second quarter of 2015 look horrific. HTC says it lost 24 cents (or pence) for every dollar (or pound) of revenue it received. After four quarters of slender profits, the business just fell off a cliff.
The Taiwanese giant's share price has halved from £146.5 ($224.63) to £68.50 ($105.03). If you'd bought £100 ($153.33) worth of HTC shares at their peak in April 2011, they'd be worth less than six quid (six bucks) now.
According to its unaudited figures, published on Monday, HTC collected $1.064bn (£692m) in revenue in the quarter to June 30, and made a net loss after tax of $259m (£168m).
Yet this is in spite of winning so much praise for last year's flagship, the HTC One M8. The HTC One inspired an emotional connection, unusual in a generic market. The mobe won plenty of phone-of-the-year awards. It married a bold design to the smartest and most polished (and least cluttered) of all the leading user-interface skins. Surely this would turn into sales? It did, but only up to a point.
How did HTC get to such a dire position?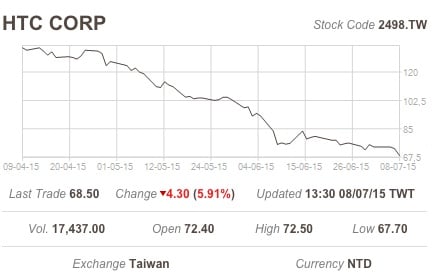 In the past couple of years, HTC chose to focus on the high-margin end of a cut-throat market, and outsourced production of cheaper models to cut costs. Without a strong portfolio, it couldn't capitalize on any "halo effect" from all the rave reviews of the M8.
In addition, the signature design of the flagship didn't translate to the plastic E8, while the Mini 2 married the One's high-quality body and design to an underpowered engine. Neither screamed "buy me."
The M8 launched in a year when gadget bloggers and phone reviewers were bored with Samsung, but that ennui turned out to be temporary. This year's flagship (the One M9) launched at Mobile World Congress to indifferent reviews, and its camera performed horribly for a flagship. (I'll return to it shortly to see if recent updates have improved things.)
HTC execs must be scratching their heads. Didn't we do exactly what gadget bloggers asked? Don't change the design, but make the camera more conventional, you said. So we didn't and we did. And now you hate us! M9 sales are reportedly 43 per cent down from the M8.
(HTC was also late diversifying into new markets, and the financial results show only the development cost, but not the revenue from these ventures; neither HTC's VR headset Vive nor its fitness band are on the market yet.)
No single device, good or bad, accounts for a company's long term trajectory. Samsung "recovered" in 2015 because it had spent years investing a Greek-sized debt on marketing and advertising. HTC had underinvested in marketing, and few of its campaigns were memorable – except for being completely off-the-wall awful. I'm not sure how the hipster pictured below can help the product.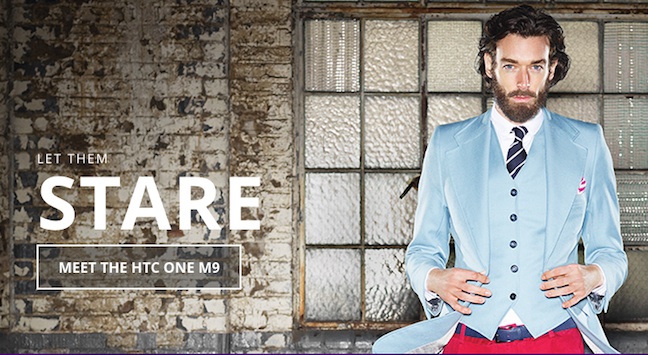 In any case, blitzkrieg marketing doesn't buy success even when you have decent products to sell: just ask Sony. The high-end smartphone business looks more than ever like a two-horse race, and it doesn't look like you can buy your way in anymore. ®