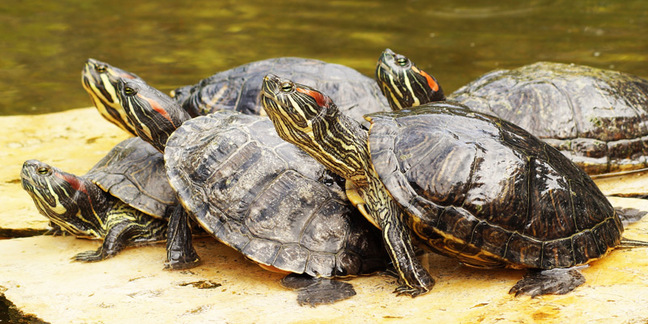 North Korea has executed the manager of an underperforming terrapin farm, following a "field guidance tour" of the site by Kim Jong-un.
According to Daily NK, the chubby despot rolled up at the facility on the Taedong River in Pyongyang back in May (see pic, below), to find "some of the tanks were not adequately supplied with food and water, leading to the death of a lot of terrapins".
Kim apparently "lashed out at everyone present during the inspection", dismissing "nonsensical complaints" that water, electrical and equipment problems had caused the diminutive turtles' demise.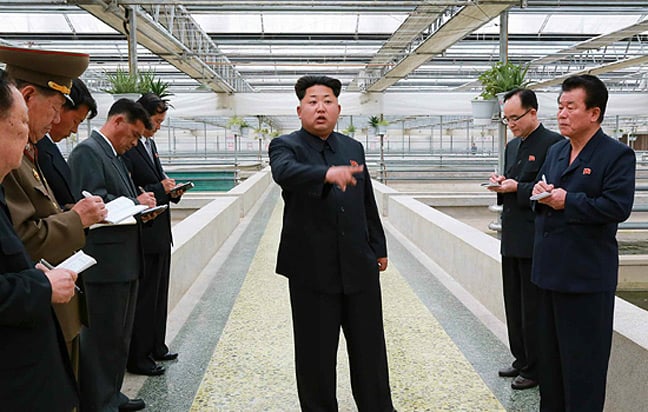 'This organisation does not tolerate failure!' Kim Jong-un during the terrapin farm field guidance tour. Pic: Rodong Sinmun
The manager was subsequently shot, having been fingered by subordinates as the man responsible for the outrage. Disappointingly, Kim missed the opportunity to make him plunge from a collapsing bridge into a pond of killer terrapins to make clear that "this organisation does not tolerate failure".
The Daily NK story is based on "local sources" and confirmed by "two additional sources in the capital". The publication is run by North Korean defectors.
Previous lurid reports from the Communist state include that of the execution of 80 people for watching banned South Korean soap operas. In August 2013, the international press had a field day on rumours that Kim's former girlfriend, singer Hyon Song-wol, plus 11 fellow musicians, had faced a firing squad for "videotaping themselves having sex and selling the videos" and having "Bibles in their possession".
Hyon later miraculously rose from the grave, demonstrating the unreliability of information leaking from the Communist state.
Whatever the truth behind the terrapin farm shocker, Kim Jong-un certainly does like to keep lackeys on their toes with his field guidance tours. He recently gave the Pyongyang Vegetable Science Institute the once-over, and mercifully for the manager, was "pleased to see various kinds of vegetables growing in thick verdure at every greenhouse". ®
Sponsored: Webcast: Discover and secure all of your attack surface