Samsung to launch a Snapdragon 808-based clamshell smartphone
Not all phones are black glass rectangles, y'know
---
We don't get clamshell smartphones in the West, but China's love of keypads means that Samsung sells them over there - and the first Sammy to use the Qualcomm Snapdragon 808 processor is just such a phone.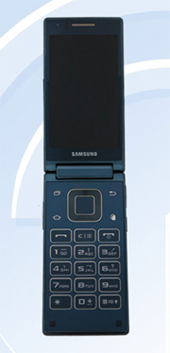 The Samsung SM-G9198
The SM-G9198 has just got approval from China's telecoms regulator, TENAA, which should see it on the market soon.
According to testing website gfxbench, the Samsung SM-G9198 has a 64-bit hexa-core Qualcomm 808 processor running at 1.8GHz. There is a 4.6-inch, 1280 x 768 touch screen and a 15Mp camera.
With a relatively small screen and GPU-supported processor, it gives good graphics performance.
Samsung fanboi site Sammobile reports that the screen is a bit smaller at 3.91 inches, although there are two of them – one inside and one outside of the clamshell.
The phone is reported to run Android 5.1.1 Lollipop with 16GB on-board, expandable with a microSD card slot of up to 128GB, and has LTE compatibility.
Two screens make for a thick phone, at 119.7 x 66.6 x 16.7mm, and at 191g, it's also chunky. Dense phones always feel good to hold and with a decent hinge it should have an air of quality which many phones seem to be lacking.
Unfortunately, it's highly unlikely that Samsung will sell the SM-G9198 outside of China – its SM-G9098 predecessor was only for the Chinese. Phones with keypads tend to be associated with those who have visual impairments – devices such as the Telorion add-on for Samsung phones and the Kapsys Smartvsion. ®
Similar topics
Narrower topics