This article is more than 1 year old
NHS trust's crack IT squad claims its first digital upgrade hits
'Big' ECM in paperless Sussex modernisation move
An NHS trust is claiming the first fruits of success from a new unit created to modernize its dated IT infrastructure.
The Sussex Partnership NHS Foundation Trust created an IT solutions unit of 12 new and existing staff to modernize its infrastructure in February 2014. The unit has been handling IT change requests across 5,000 staff in five counties.
The group has now rolled out a device, data and data centre architecture that head of IT solutions Theresa Jones said laid the foundation for further change.
In just 17 months, the unit has consolidated and virtualised NHS-supplied data centre servers, moving to Daisy and Rackspace. All its laptops have been standardized on Windows 7.
But the biggest step, according to Jones, is the Trust's first enterprise management system – the open-source Alfresco One ECM. This is the first step in a plan to go paperless on the clinical and back-office side locally but also in keeping with a broader target of a paperless NHS by 2018.
Jones told The Reg that adopting Alfresco is a really big step for them because it's "the first enterprise piece of software we've used."
The first step is to migrate 2.5 million documents. The Trust is grappling with a mix of electronic, paper records and unstructured data.
"Our ambition is to use Alfresco to become paperless," Jones said, adding: "Our first step is to put in the unstructured patient data that we have in patient record systems. After that, we will look at document scanning to become paperless on the clinical side and then paperless on the corporate side."
The bigger objective is to be able to share information with relevant health and social bodies in Sussex. The trust provides care for young people and adults in people's homes, clinics, hospitals, GP surgeries and prisons.
Another project that is about to launch is e-forms: digitising the process of people joining and leaving, currently a mix of paper and online. As Alfresco is open source, Jones reckoned this would let her team change and update the ECM using open code on a modular basis. She said Sussex considered "other" ECM providers in Gartner's magic quadrant, but didn't name names.
It's not the Trust's first swallow of open source: Sussex has Drupal on its web site and a system using Moodle for a prescribed learning management system.
Jones has worked in the NHS for six years and been with Sussex since January 2013 – she was digital services manager for NHS Hampshire before. She is an ex-IBMer who also worked for a digital agency. Her Sussex trust's IT solutions unit includes business analysts and solutions architects.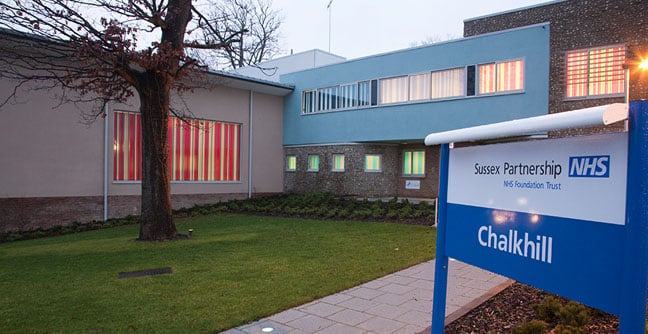 Alfresco to chomp on 2.5 million Sussex Partnership NHS Foundation records
She tactfully describes the Trust's IT infrastructure 18 months ago as "not great" and "clunky and old."
"We were way behind on the digital roadmap and getting that infrastructure in was our first priority," she said. Added to this, the Trust's IT team were faced with NHS staff "banging on the door."
Staff were, unsurprisingly, demanding new technology but the key to success was managing the introduction, ensuring anything new worked with the Trust's existing Active Directory set-up and didn't create new technology silos.
Also, she was firm that new technology should be easy to use. "Nobody got trained on Facebook," she said.
According to Jones, all new technology must comply with four rules: provide value for money, be fit for purpose and be secure and work with the Trust's other systems.
Her group is also managing relationships with IT suppliers to achieve economies of scale, she said. ®