This article is more than 1 year old
Gartner, Gartner, on the wall? Who is the fairest IT backup biz of all?
It's YAMQ time – Yet Another Magic Quadrant
Gartner geeks have issued another rapturous rectangle, otiose oblong, or even a queer quartet of spell-binding squares to do with enterprise backup software and integrated appliances. Yes, it's magic quadrant time again.
There are four clear leaders: EMC, CommVault, IBM, and Symantec, with not a lot to separate them. In the Challengers' box HP sits all alone. Actifio and Veeam keep each other company in the Visionaries' square while there is an octet of Niche Players: Baracuda Networks, Unitrends, Arcserve, Dell, Asigra, Seagate, Acronis, and FalconStor.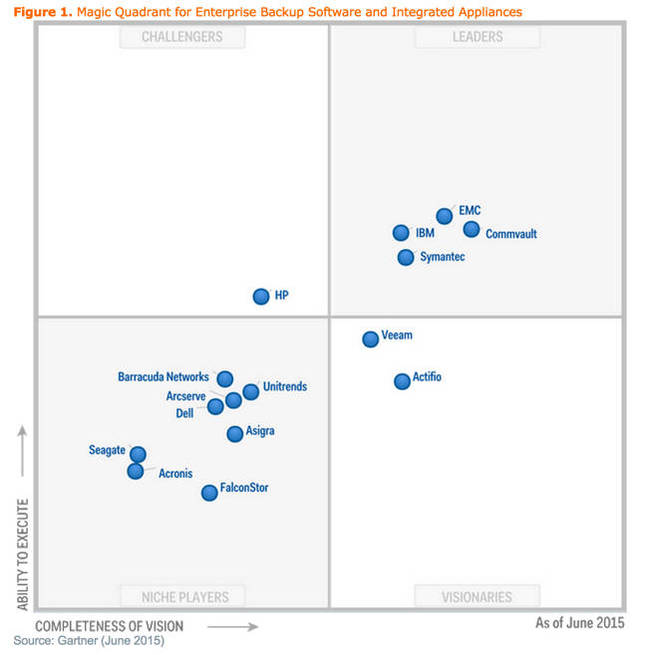 Gartner MQ for enterprise backup software and integrated appliances
This MQ does not include deduplicating target backup appliances, there being a separate MQ for them.
Some snippets from the report that we found interesting:
Organizations are increasingly making their backup product selections from vendors that offer expanded protection capabilities and techniques in addition to traditional backup software, as organizations have come to understand the value of backing up critical data via multiple methods, techniques, and destinations.
Arcserve; Approaching the one-year mark after the split from CA, sales appear to be rising. Arcserve has the majority of its deployments in Japan and Europe, with plans to better penetrate North America via increased marketing, new functionality, and the appliance delivery model.
Asigra's brand awareness is low among Gartner user clients, who also report finding it hard to locate a service provider without contacting the vendor first... If purchasing Asigra Cloud Backup as a service, know that product versions, enabled capabilities, and first-level support experience can vary across service providers.
Barracuda is a fast-growing vendor for midsize backup requirements; it is especially strong in the education, finance, and local government verticals... The vendor lacks support for a broad range of environments and large-scale deployments; NAS NDMP and physical tape are not offered with the Barracuda Backup Server.
CommVault's stated near-term vision for further data management and opening up its unified repository for broader use cases should resonate with market interests... Large deduplication operations, at 40TB or larger, require the usage of solid-state drives (SSDs) for the deduplication database to achieve optimal performance.
After years of promising customers, EMC still hasn't unified Avamar and NetWorker, which remain somewhat discrete with separate catalogs, policy engines, and management consoles... ProtectPoint and Spanning are creating additional challenges for EMC's backup integration and unification initiative, which has been slow to come to fruition.
This year, IBM announced renaming all of its storage offerings under the Spectrum brand, with TSM taking on the Spectrum Protect moniker... Despite more than a decade of releasing new layouts and underlying interface technologies, end users, including IBM's own references, rate the TSM UI as being challenging to navigate.
Symantec's NetBackup has retained a strong presence in the market, and customer consideration has risen compared to the last several years, with very little market concern regarding the impending company change... While this evaluation is primarily focused on NetBackup, Backup Exec is also in the portfolio and is targeted at midsize enterprises, with a new v.15 release that looks to have fully addressed the issues of the 2012 release. Gartner advises NetBackup customers with concerns over the two companies' futures to consider a one-year renewal while the vendor completes its stated transition.
Unitrends; New cloud geographies are planned in EMEA, but are not currently available. If Unitrends' encryption options do not meet data sovereignty requirements, international customers should verify where the backups will be stored. Storage array snapshot support is not currently offered.
Veeam has been recognized by customers as the leading VM backup vendor in the market, mostly due to its product simplicity, reliability, and integration into VM management UIs, and partly due to a replication function included in the same product.
Grab your own copy of this MQ from Asigra's website (registration required). ®