This article is more than 1 year old
Intel Unite: For the workers of the world and their absentee bosses
Wanna get cosy and collaborative? We've a chip for you
Pics Ever keen to sell an extra chip, Intel has been pushing its Unite platform in London this week. It's all part of the plan to bring "compute to the boardroom" as Chad Constant, the company's biz client platforms head honcho explained.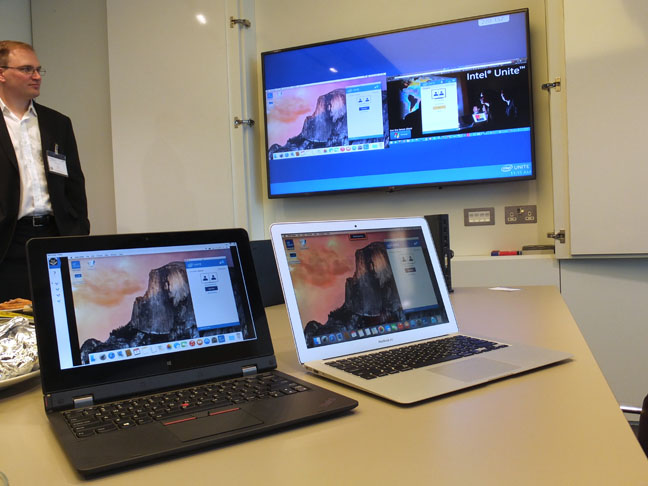 Intel Unite London demo with Chad Constant and share screens galore
Intel has its eye on all those hip and happening collaboration areas and shared workspaces that we're apparently all so keen on, with screen sharing being the big idea here.
Intel's Unite software runs on Windows and Mac with Android, Chrome and iOS support in the works. Users can connect wirelessly and currently up to four screens to be viewed simultaneously, and the scalability allows sharing with as many users as required.
The catch, of course, is you need to invest in a PC with a 4th or 5th generation Core vPro chip to run the show. It acts as a hub and the vPro tech enables remote administration offering software defined infrastructure (SDI) capabilities.
Intel envisages mini PCs stuck under boardroom tables and had a handful of candidates for the job on show.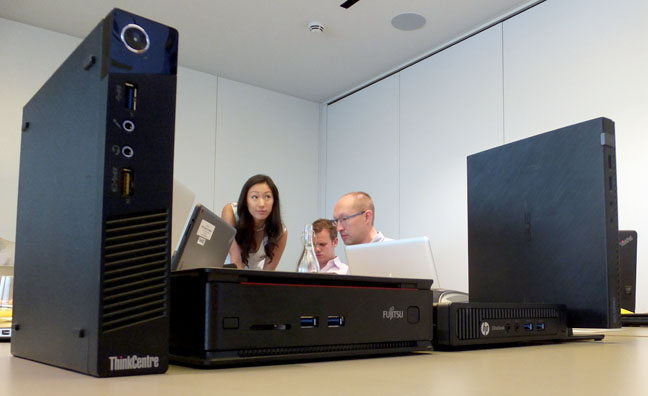 Intel vPro inside: Lenovo M93p, Fujitsu Esprimo Q 920, HP EliteDesk 800 Mini and Asus Pro E810. Dell has the 9020 Micro on its way too
The login is a straightforward affair of following a URL, clicking connect, entering a PIN code and then selecting 'Click to Share' to join in. The Unite app is installed during this process, delivered by the hub, and only takes a few seconds.
Users can drop out of screen sharing to let others take one of the four display slots and the boardroom telly can show the various screens, resizing to fit if the number of shared screens varies.
Under the table tech
It's still early days though, so don't expect to be showing off the company's latest corporate video this way. The frame rates are underwhelming and audio is said to be low quality, with webcast AV quality due later in the year. Current additional features include support for peripherals that run on Lync, Telepresence and WebEx to name a few.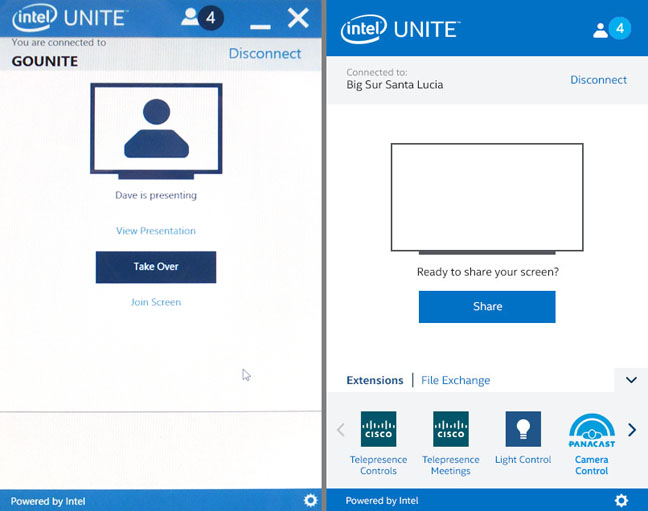 The demo Unite app without extensions (left) and a fully loaded feature set (right) with peripheral support and control functions
As part of the Open Interconnect Consortium (OIC), Intel also reckons you'll be controlling the lighting, room temperature and audio playback volume from its Unite platform. So maybe we'll see screen-sharing bosses in the Bahamas turning up the lights and the sound and setting the temperature to chill in the boardroom to keep the attention of those collaborative execs.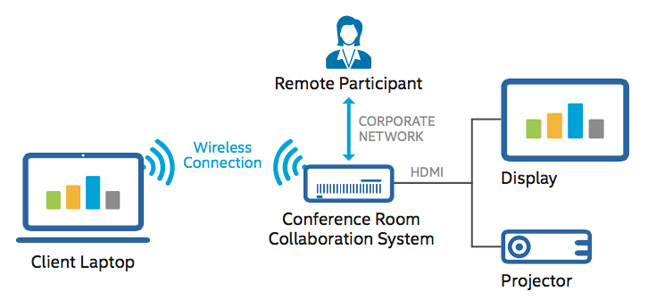 Remote connectivity is a bit vague but if you can get onto the corporate network then you can join in the fun
Back in the here and now, Unite on the vPro hub will run on Windows 7 or higher. During the demo, an Intel NUC was used for Unite hub duties and, so long as you're on the network, you can join in. Presumably, some sort of VPN is needed for remote users to access the corporate network. The security features 256-bit SSL encryption.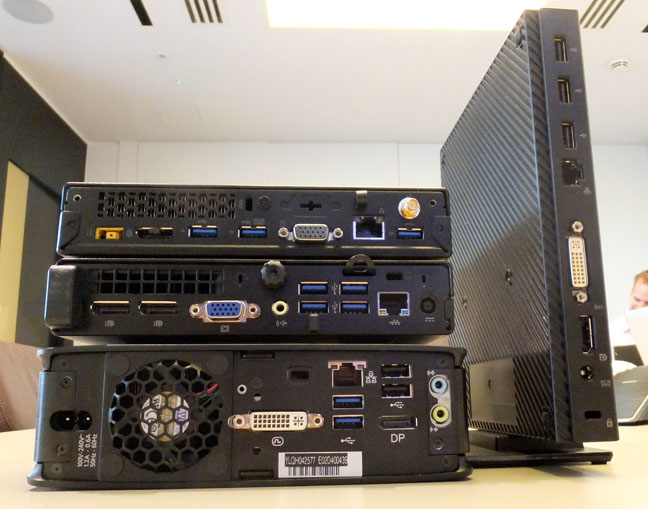 DisplayPort connectivity all round: Instead of bubblegum under the desk, you could find one of these PCs
Sharing users can draw on the presentation images they see to bring attention to areas they need to question, highlight or clarify. The scribbling can be non-permanent, so it starts to fade after 15 seconds or so, eventually disappearing.
You can switch to permanent marking too, which could be useful for whiteboarding sessions.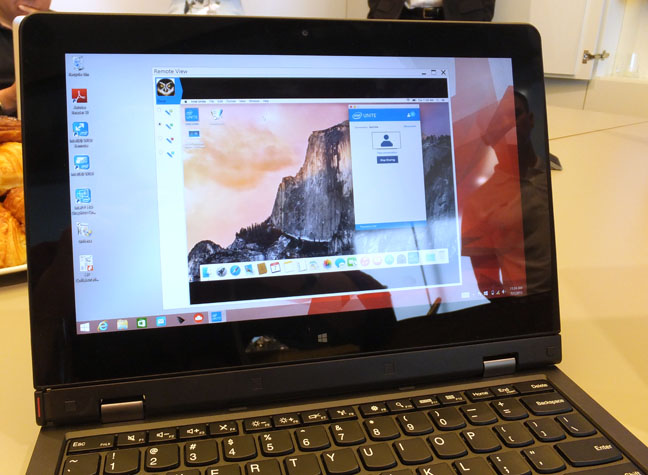 Shared Mac OS screen appearing on a Lenovo ThinkPad
At the event, Josh Copeland, a self-confessed Intel vPro Technical Evangelist, ran an early version of Unite on a MacBook Air which didn't work at first but after a reboot, it behaved itself, sharing alongside the gathering of PC laptops.
Not all the features, such as the drawing function, are on the Mac version yet, but it's getting there. All you need to do now is convince the boss that having £500+ PC stuck under the boardroom table is a good idea. ®