This article is more than 1 year old
The Empire Strikes Back: Disney tractor-beams StarWars.co.uk from Brit biz
A domain of evil it is. In you must go.
Disney has won ownership of just about every possible Star Wars UK domain name in a decision by the registry operator Nominet.
Handing in a final judgment [PDF] this week, independent panelist Steve Ormand decided that the domains starwars.co.uk, star-wars.co.uk, star-wars.uk, star-warsco.co.uk, star-warsco.uk, starwars.uk, and starwarsco.co.uk should be handed over to the UK subsidiary of Lucasfilm – the Star Wars and Indiana Jones maker now owned by Disney.
But as with the legendary sci-fi tales, all is not as it may first appear.
The owner of StarWars.co.uk, Abscissa.com of Newbury, uses the site to sell Star Wars costumes for all the main characters, as well as a range of memorabilia related to the film. The company has owned the .co.uk domain for more than a decade.
Lucasfilm has, however, held a UK trademark for the name Star Wars since 1984. And so it feels it should have the rights to the domain. It approached the company in June last year, and demanded it be handed over; Abscissa refused.
So this a victory of good over evil? Not so fast.
Abscissa said it picked up the StarWars.co.uk domain back in 2003 – but only after Lucasfilm had let the domain registration lapse.
The film company actually owned starwars.co.uk back in June 2001, but let it expire rather than pay to renew it. It was nearly two years later before Abscissa decided to purchase it.
What's more, Abscissa claims Lucasfilm recognized it had no right to demand the name back and that Lucasfilm only started its effort to get the domain back when it realized that under Nominet's rules for the new .uk top-level domain, it would not have the right to register starwars.uk because that right is given first to owners of all .co.uk domains.
Abscissa even says it offered to give the plain .uk site to Lucasfilm so long as the studio let it keep its existing .co.uk domain.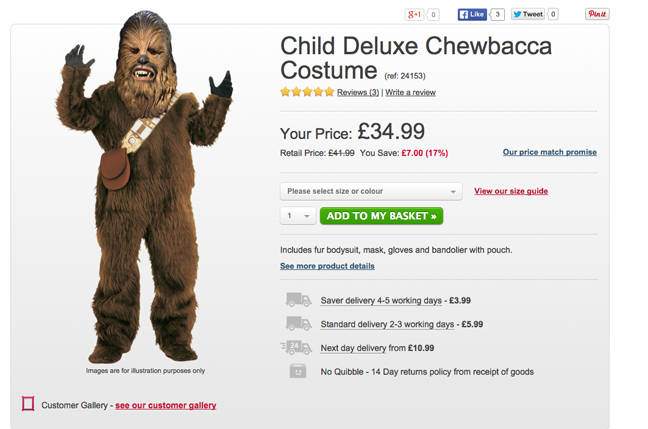 An example of what you can buy at starwars.co.uk. Um, great?
Why, you stuck up, half-witted, scruffy-looking Nerf herder
Abscissa also claimed that it only resells licensed products from Disney's own official and authorized channels, so it is not using the domain in an abusive way. Disney counterclaimed that it managed to buy an unlicensed product through the site. The panelist, Ormand, decided that Disney's evidence of this was too flimsy to agree.
But, incredibly, Ormand disregards the fact that Lucasfilm once owned the domain and let it lapse or that it waited over a decade to demand the domain back.
Quoting a previous Nominet case, he said: "The generally held view amongst Nominet experts (and uniform domain-name dispute resolution panellists) is that delay alone is not a ground on which a Complaint may be denied."
He added: "The fact that the Complainant has not registered the Complaint for such a length of time is not prejudicial to proper consideration of the issues. Accordingly, I find that the Respondent's registration and/or use of the Domain Names has taken unfair advantage of or has been unfairly detrimental to the Complainant's Rights, and the Respondent's use of the Domain Names has, in the case of all of the Domain Names, caused initial interest confusion, which is Abusive Registration in each case."
Confused you are. Expecting to see trailer for new film you are
In other words, someone who turned up at starwars.co.uk upon seeing a bunch of costumes for Star Wars characters might think that they were authorized costumes of the films – which, of course, they actually are. BUT the person might think that they were buying those costumes direct from Lucasfilm when in fact they were getting them through a third party.
The decision is ripe for appeal, and Abscissa has until 21 July to decide whether to do so. Read the full decision here [PDF]. ®