This article is more than 1 year old
Barracuda billings blunder: Blair bloke bullish
Too much jaw-jaw not enough grasping for cash, says sage
Barracuda boosted revenues 17.8 per cent on an annual basis to $78 million in its first fiscal 2016 quarter, but made a -$3.8 million loss.
A year ago it made a $200K profit on its $66.2 million revenue, so why has it gone down the toilet profit-wise in this latest quarter?
Prez and CEO BJ Jenkins didn't say in his tinned remarks:
"We delivered revenue and non-GAAP EPS at the top end of our targeted range. During the quarter, we grew total active subscribers, increased gross margin and maintained a 92.5 per cent dollar-based renewal rate, speaking to the underlying strength of our business model."
William Blair analyst Jason Ader said there was "a sharp miss on gross billings (roughly $7 million off our [$101 million] estimate)," which would have turned the -$3.8 million loss into a decent $3.2 million profit using simplistic arithmetic.
In the earnings call he said: "Management cited a confluence of mainly temporary factors—adverse foreign exchange (even worse than expected), mix shift to virtualised products (which carry lower up-front billings), and a slowdown in larger storage deals (timing-related)."
Ader also mentioned "temporarily diminished sales capacity due to several company and industry events during the quarter." Translation: there was an excess of marketing over selling and buying.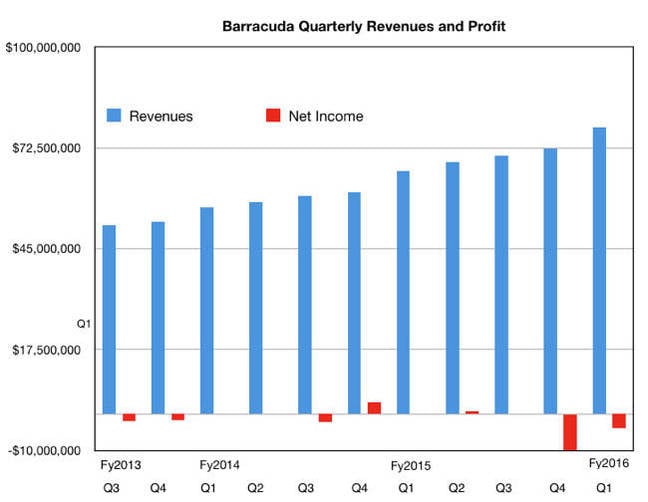 Barracuda bosses, he says, "reiterated full fiscal year billings guidance of 16 - 18 per cent and [were] adamant that storage issues are not structural (i.e., public cloud pressure), noting that storage sales are off to a strong start in the second quarter". In particular, "management noted that the company's large-deal storage pipeline is increasing and that many of the pushed-out deals have closed early in the fiscal second quarter, with storage returning to more "normal" growth rates."
Ader is bullish on the company's prospects so despair ye not and look forward to improvements in quarters 2, 3 and 4. ®