This article is more than 1 year old
Thinking of adding an SSD for SUPREME speed? Read this
The fast and curious world of PCIe Flash
Feature Those guys in white coats at the Serial ATA International Organization (SATA-IO) must have been really proud when they unleashed the SATA 6Gb/s specifications on the world. You can imagine them thinking: this will keep us ahead of the game when it comes to hard drive performance.
Certainly they were right when it comes to the rattley old mechanical hard drive storage, that 6Gb/s interface speed will do nicely for the foreseeable future. But what must have taken them by surprise, and nearly everyone else for that matter, was the incredibly rapid rise of the Solid State Drive from an almost unattainable object (due to cost) to something that is today almost run-of-the-mill, with SSDs available to suit pretty much all budgets.
Ever since the realisation dawned that the standard SATA 6Gb/s interface wasn't going to cut the mustard to keep pace with the huge leap in SSD performance, the hunt was on for some other form of interface to use with this high speed storage. It soon became clear that the ideal technology to base any new interface around would be the PCI Express lanes of a motherboard.
PCIe-based drives in various guises have been around for quite a while. However, the two specifications that the SATA-IO brought to the table for the new generations of SSDs were M.2 and SATA Express, although both of these technologies are based on existing ACHI (Advanced Host Controller Interface) architecture. What's needed to see the true potential of PCIe-based drives is an architecture that fully understands non-volatile memory, and now that architecture has finally arrived in the shape of NVM Express or NVMe – but more on that later.
First, a quick look at the various ways of getting an SSD drive to make use of the PCIe bus in a desktop environment.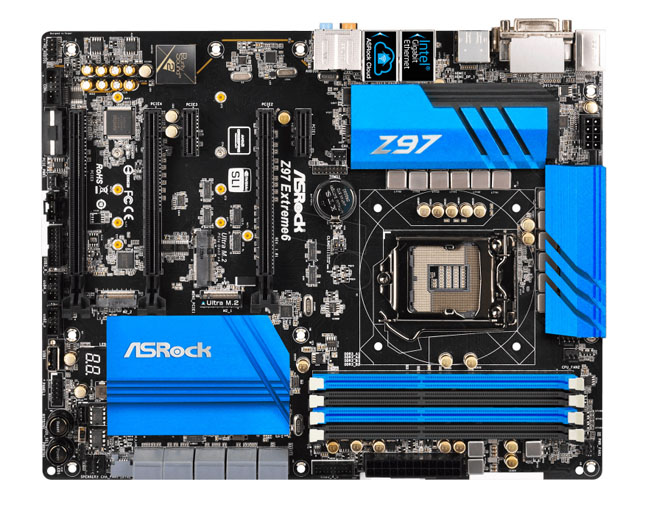 Something for everyone: the ASRock Z97 Extreme6 motherboard features PCIe, SATA Express Ultra M.2 and M.2 slots
Motherboard PCIe slot
SSD drives built on a PCB that uses a PCIe interface have been around for a lot longer than most people realise, both in the consumer and enterprise segments. OCZ, for example, was the first in the world with a multi-controller/PCIe consumer SSD with the original RevoDrive back in 2010.
Enterprise drives such as Fusion-io (now part of SanDisk), with price tags that could turn even the most confident IT manager into a jibbering wreck, go back even further. A couple of years ago, I looked at KingSpec's take on a PCIe based drive, the three grand 2TB Multicore.
OCZ has pretty much been waving the flag for consumer PCIe drives on its own since that original RevoDrive, along with a handful of very hard-to-find drives. Still, 2015 should finally see an increase in PCIe drives aimed at the consumer segment. Plextor already has the M6e in the market, G.Skill produces the Phoenix Blade, while Kingston has recently launched the HyperX Predator. Hopefully, many more manufacturers will follow suit.