Thinking of adding an SSD for SUPREME speed? Read this
The fast and curious world of PCIe Flash
M.2
The M.2 format can be a tadge confusing, as it's used by both SATA and PCIe drives but for this piece I'm going to stick to the PCIe version. Also known as the next generation form factor (NGFF), the M.2 format drive looks set to take over mSATA as the storage of choice for manufacturers of Ultrabooks and smaller form factor notebooks. For instance, Lenovo's latest X1 Carbon Gen3 features the latest Samsung SM951 PCIe M.2 drive as an option.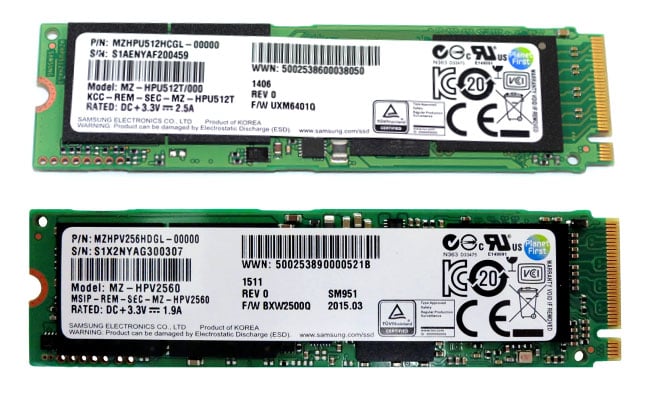 Samsung XP941 (top) SM951 (bottom)
Adoption won't happen overnight though and mSATA won't be going anywhere soon, something that is shown neatly by both Crucial and Samsung releasing mSATA versions of their latest drives, the MX200 and 850 EVO respectively.
You will see drives labelled as 2230, 2242, 2260, 2280 or 22110 format with the 2260 and 2280 being the most common form factors. These numbers describe the physical size of the drive – 2280 denotes 22mm wide 80mm long. The storage also comes in single sided or double sided versions.
Getting the best out of an M.2 drive in a desktop situation can pose a few problems but these will get resolved as the format matures. Most current motherboards that have an M.2 socket installed on them have only two PCIe lanes available to them. To get x4 speed you either have to get an Intel X99 chipset board or look for one of the special boards made by ASRock (I used the rather excellent Z97 Extreme6) and Gigabyte that has the extra PCIe lanes to enable x4 speed.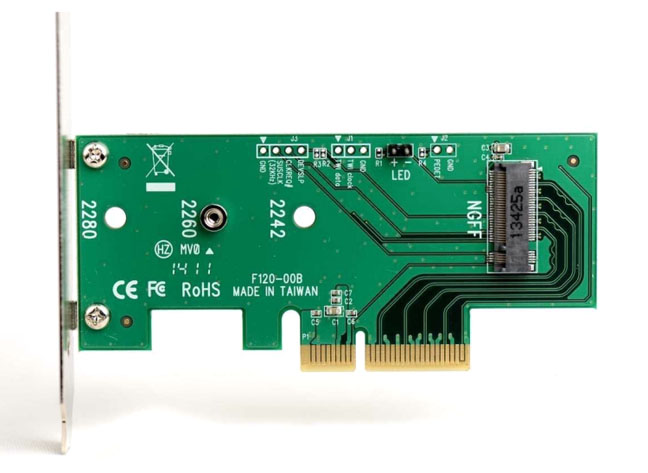 Lycom DT-120 M.2 to PCIe adapter
The other alternative is to use an adapter card such as the Lycom DT-120, which enable x4 M.2 drives to be used in a PCIe slot (x4 slot and upwards) thus enabling their use in motherboards that don't even have a M.2 port.
SATA Express
SATA Express (part of the SATA 3.2 standard) seems to have gone from the oracle of a brave new world to its weedier cousin that gets sand kicked in its face as it seems to have been left behind. The SATA Express specification is about an interface rather than any drive architecture. Designed to enable SATA devices to work with the PCIe bus, it enables the 6Gb/s SATA limitation to be bypassed and supports both PCIe standards (2.0 and 3.0) but only at x2 speed.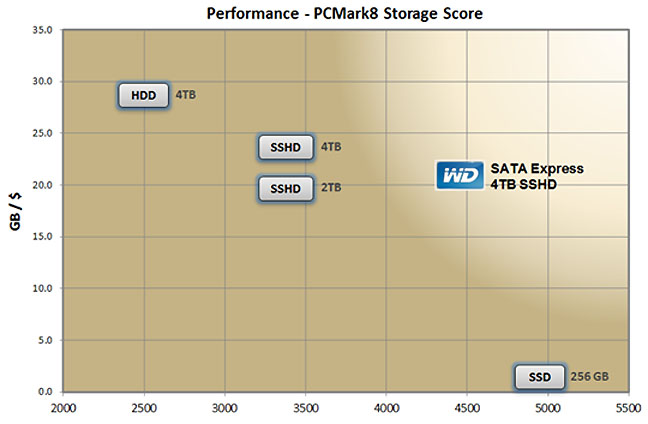 Western Digital's own SATA Express drive PCMark 8 benchmarks
WD showcased a SATA Express drive back at Computex 2014 and so far that's about it. Plenty of current motherboards have the ports on board waiting to be used but a true SATA Express drive has yet to hit the market. But it may well get a new lease of life, as its rumoured to be a native part in Intel's upcoming Skylake platform. Personally, I can see SATA Express ending up as a fast interface for external drives.