This article is more than 1 year old
Thinking of adding an SSD for SUPREME speed? Read this
The fast and curious world of PCIe Flash
What a performance
SSDs that use the motherboard PCIe slots have never been exactly cheap, mainly because up to now they have been either drives aimed at the enterprise segment or – as in the case of the consumer market – there has been hardly any competition amongst manufacturers.
Remember that original OCZ RevoDrive? Well, when it was launched, the 240GB model cost £495 and the latest incarnation of it, the RevoDrive 350 costs around £620 for the 480GB model. Against that, the price tags for both the Kingston's HyperX Predator and Intel's SSD750 suddenly don't look so bad.
ATTO benchmark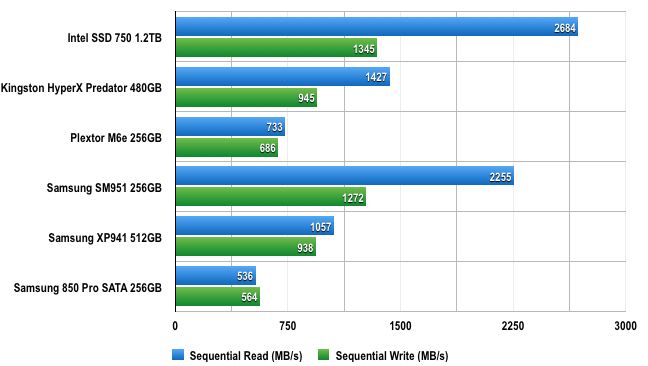 Large file throughput – longer bars are better
Hopefully the same thing will happen to the consumer PCIe storage market as happened to their 2.5in SSD equivalents, with prices being driven down as more manufacturers got into the act making the segment a hugely competitive one.
With M.2, it's a similar story. Although it appears that there are a number of manufacturers producing drives, you have to be careful as many of these are SATA-based, not PCIe. For instance, Samsung not only produces the XP941 and SM951 but also produce a range based on the 850 Evo, which, of course, is SATA.
CrystalDiskMark 3 benchmark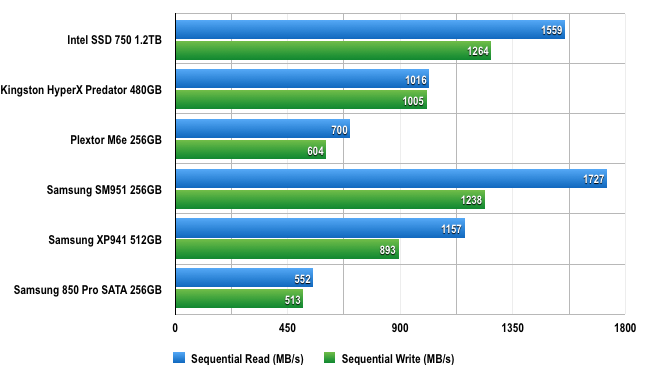 Sequential throughput – longer bars are better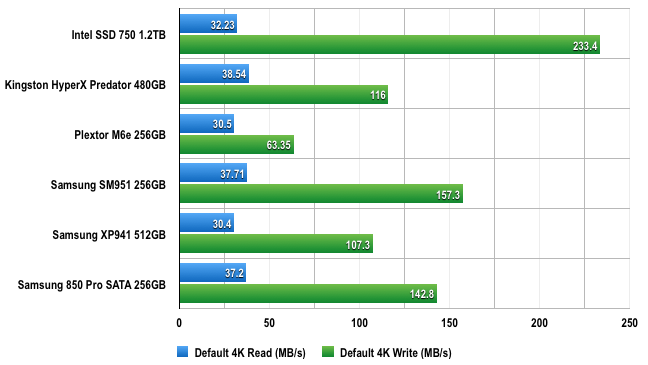 4K files throughput – longer bars are better
It's also interesting to see what happens to pricing when a drive becomes more readily available to the market. Both Samsung M.2 drives are basically OEM products – in theory, out of bounds for the normal punter. The XP941 certainly sticks to that path, as it was/is a very hard to find drive and carries a high price tag.
The Samsung SM951 is much easier to find – I located four vendors selling it without too much trouble – and even though the drive eclipses its predecessor in performance terms, the SM951 is actually a few quid cheaper. The 512GB version sells for around the £340 mark, some twenty quid cheaper than the same capacity XP941.
Of course the other thing to notice is how the latest technologies improve the performance versus cost balance over previous generation drives. Take Intel's 1.2TB SSD750, yes it costs over £800 but compare it with KingSpec's 2TB Multicore which costs around three and a half grand.
The Intel drive hammers the KingSpec in performance terms with the exception of Sequential Writes (2.36GB/s compared to the Intel's 1.72GB/s) and 4K Sequential Reads, where they almost match. Not only that but the Intel drive utilises technologies that are much more refined and indeed future proofed with its NVMe architecture. With all these speed gains and capacity/cost reductions, solid state storage has never been so interesting. ®